Watchtower Launch Event – Register Your Interest Now to Discover How This Program Is Helping Lancashire Based SME's Recover, Grow & Continue To Thrive
14 September | 9:00 am

-

2:00 pm
Come & Meet The Watchtower Team and Discover How This Program Could Help Unlock The Full Potential of Your Business:
Official Launch Date: Wednesday 14th September 2022
Venue: Burnley College, Lecture Theatre
Time: 9.00am to 2.00pm
Agenda: Full agenda to follow.
The Lancashire Advanced Engineering and Manufacturing (AEM) Watchtower project delivered by North West Aerospace Alliance, Aerospace Consulting and Community & Business Partners official launch date is confirmed as Wednesday 14th September 2022 and are delighted to invite you to the 'not to be missed' Launch Event.
The event will give you an overview of the key benefits you can expect from engaging with the Watchtower programme for Lancashire based SME companies wanting to improve their competitiveness, resilience and sustainability.
Watchtower is tailored to you and your business and is for you if:

   your business is an SME

   your business is Lancashire based

  your business is in the following Industries or supply chain to these industries:
Aerospace
Advanced Engineering & Manufacturing
Auto Motive
Nuclear
Advanced Materials
Computing & Electronics
Other: i.e Rail, Medical

  your business needs support to help you diversify and find new contracts that fit your manufacturing capabilities

   your business needs support to find new contracts which fit your capabilities

  your business needs support to understand their opportunities to innovate and develop new products, processes and services to connect with Lancashire Innovation Centres of excellence

 your business needs support if you have individuals at risk through restructuring and redundancy, supporting those individuals with further opportunities and matchmaking of their skills with companies recruiting to secure further employment within the sector
If you are interested in areas of business improvement, growth diversification & innovation then we would love for you to join us and for you to be a part of this not to be missed exciting Watchtower launch event.
SPECIAL LAUNCH DAY FEATURE:  Innovation Spotlight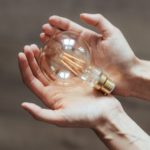 The launch event will also feature an 'Innovation Spotlight' on how best Watchtower can support you and your business
Future Events & Support Will Include:
Targeted, Tailored Innovation Support to meet the needs of your organisation and people
Innovation
Innovation assessment to gain an understanding of your current innovation capability and identifying any gaps
assistance to close the gaps through development of a defined action plan and focused planning sessions
provision of access to connect with the most appropriate Lancashire Innovation Centres based on your Innovation focus areas
Diversification
identifying opportunities to diversify with support from AEM Sector Champions
diversification plan tailored to your businesses key capabilities and strategic Plans meet the needs of your business
network and engaging opportunities with potential customers & access to diversification opportunities in other AEM sectors which best fit your organisation key capabilities and future plans.
The Watchtower Launch Event Program is being run by the AEM-Hi Lancashire consortium, involving the North West Aerospace Alliance (NWAA) and Aerospace  Consulting Ltd; in association with Community & Business Partners (CBP).
Supported by key organisations within the Aerospace, Automotive, Low Carbon & Nuclear, Rail and other AEM industries.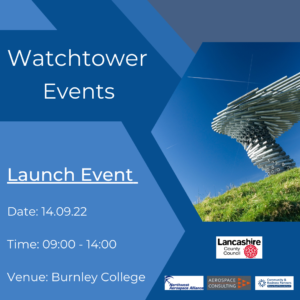 To register your interest in the £1million Lancashire Advanced Engineering and Manufacturing (AEM) Watchtower program CLICK HERE TO RESERVE YOUR FREE PLACE.