NWAA, AGP & Aerospace Wales Event – Digital Transformation in Aerospace – Discovery and Networking event
29 September | 10:00 am

-

1:00 pm
 Date: Friday 29th September

 Venue: Visitors Centre, Airbus, Chester Road, Broughton, CH4 0DR

 Time: 10:00am to 1:00pm
The 'Digital Transformation in Aerospace, Discovery and Networking event' is for Aerospace businesses in the region to help unlock the value of digitalisation in manufacturing.
Organised by North West Aerospace Alliance (NWAA), Aerospace Wales and the Aerospace Growth Partnership (AGP), the event will bring together manufacturers, industry leaders, technology experts and SMEs to share experiences, hear success stories and gain insight into the process of digitalisation and its importance for the supply chain of the future.
The event will feature 4 topics:
The benefits of digitalisation for the UK Aerospace Supply chain
The experiences of local manufacturers on their digital journey
The support available for digital projects
Future vision of the role of digital in the aerospace supply chain
Attendees at the Digital Transformation in Aerospace, Discovery and Networking event will:
Hear from other SME manufacturers about their digital journey, the challenges they faced and how they overcame them.
Participate in panel Q&A sessions regarding the challenges the industry is facing on digital adoption.
Understand where to get support for digital programmes and opportunities for funding in the region.
Gain insight from Airbus on their supply chain vision and approach to embracing digital technologies.
Hear from industry leaders on how the industry is working with government to support the sector on digital and supply chain development.
Share experiences and network with the presenters and other attendees
Prepare to be inspired as we proudly present our esteemed guest speaker, Stephen Cowan.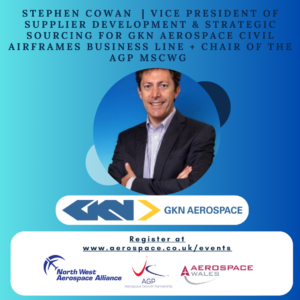 Speaker Announcement:
Stephen Cowan | Vice President of Supplier Development & Strategic Sourcing for GKN Aerospace Civil Airframes Business Line + Chair of the AGP MSCWG |
Stephen joined GKN in January 2017, having completed almost 30 years at Bombardier Aerospace in various Engineering, Operational and Supply Chain roles.
Stephen is currently assigned as Vice President General Manager for Fokker Landing Gear Defence site in Helmond, Netherlands, before that Stephen combined his role as VP of Technology for GKNA from December 2020 which compliments his role as head of the UK's Global Technology Centre at Filton, Bristol as part of the One Aerospace reorganisation, up until then he held many Operational and Operational Excellence roles driving Best Practice into all of the GKN sites as well as Industry 4.0, H&S & Environment, Gold Operating System & Industrial Strategy to ensure that GKN exceeded both its customer's and shareholder's expectations. More recently Stephen headed up the UK Ventilator Challenge for GKN, assembling Ventilators across 2 sites at Luton and Cowes, IOW.
Stephen holds an MBA from the University of Ulster and is an active board member of the Aerospace Growth Partnership (AGP) and Chair of the Manufacturing Supply Chain Working Group. Stephen is also a member of the MBA Association of Ireland and is a Fellow of the Chartered Institute of Purchasing & Supply (FCIPS.)
Outside of work Stephen is a keen Cyclist and Squash player.
This event is now SOLD OUT!