£480,000 DONATION TO HELP BOOST DIGITAL AND CYBER SKILLS OF LANCASHIRE'S YOUNG PEOPLE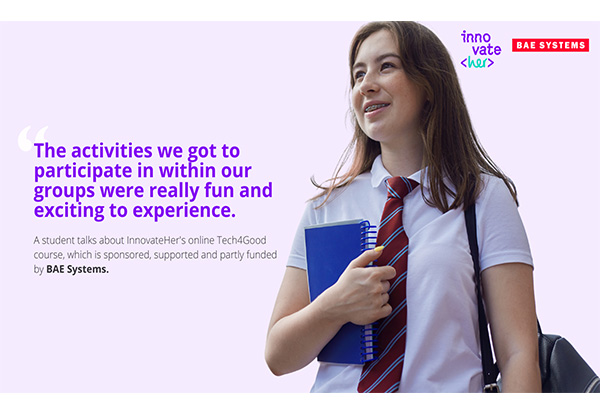 Around 8,000 young people (aged 13-17) will benefit over the next four years thanks to significant funding from BAE Systems to support InnovateHer; a social enterprise organisation with a successful and unique digital-cyber skills programme in the region.
BAE Systems is the home of sovereign combat air capability in the UK, with a large presence in Lancashire and a long history of supporting early careers and life-long skills in complex systems integration, engineering and software.
Today's announcement brings the total donation by BAE Systems, when added to previous donations, to more than £600k which will provide valuable support to InnovateHer in their objective to increase the uptake of STEM related subjects at GCSE.
InnovateHer has a particular focus on supporting females, minority groups and those from less advantaged backgrounds to promote the career possibility in digital and cyber, through a series of workshops, digital educational sessions and inspiring assemblies.
Cliff Robson, Group Managing Director of BAE Systems Air, said:
"In our role contributing to the nation's defence and security requirements, it is crucial we maintain a technological edge in digital and cyber skills and grow a more diverse workforce, so that we can deliver the next generation programmes and capabilities for our Armed Forces.
"We're proud to continue our relationship with InnovateHer and the positive impact this will deliver to our communities in Lancashire as part of our long term approach to nurture technical skills and deliver high value and meaningful careers across the UK."
Chelsea Slater, co-founder and CEO of InnovateHer, said:
"We're grateful to BAE Systems for their continued support, enabling us to reach many more young people across Lancashire.
"The team and I are proud to be continuing this important partnership over the next four years, raising the aspirations of students and tracking their progress into the tech and cyber industries."
Joanna Shuttleworth, Head of Computer Science, ICT and Business at South Shore Academy has students enrolled on the programme and said:
"InnovateHer has been successful in encouraging more girls into tech related roles at our school, with 28% of those choosing to study Computer Science at GCSE being female, which is above the national average of 21%.
"The InnovateHer programme has allowed our students to develop knowledge and skills to design and come up with a solution to a real-world problem. Not only has it developed their personal skills but has allowed them to learn so much more about the technology industry and understand what career opportunities could be available to them."
BAE Systems Combat Air business employees more than more than 13,000 employees in the UK, with the majority based in Lancashire, working on world-leading advanced and manufacturing programmes. BAE Systems across the UK invests approximately £100m in education, skills and early careers activities in the UK annually and currently has almost 4,300 apprentices and graduates in training across its UK businesses, equivalent to more than 10% of its 35,000 strong UK workforce.