A Future Full of Opportunity – Burnley College is Revolutionising Green Learning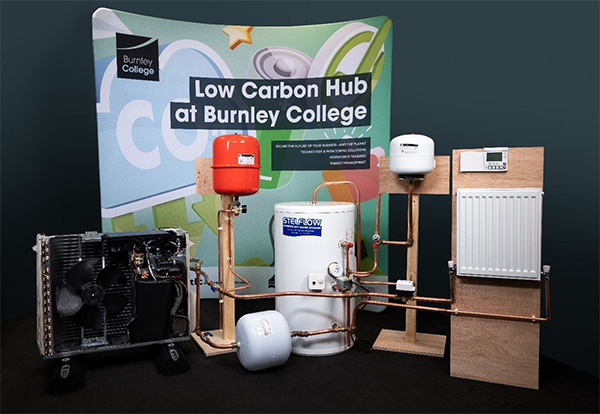 Burnley College is bringing about change which will see them decades ahead of their competitors, working with businesses to revolutionise the green agenda.
From ground-breaking sustainability training for apprentices to the innovative million-pound Low Carbon Hub for local businesses, the future is looking greener than ever in Burnley.
It comes as the college has broadened the scope of the Student Council, ambassadors and innovators so the Senior Management Team can ensure they are fully addressing the concerns of all students within the college – putting student voice at the forefront of decision-making.
A hugely powerful plan will see every single new Themis apprentice embark on a bespoke sustainability project designed to help their employer in the quest to reduce its impact on the environment as the Themis Sustainability Framework which launched in November.
Bosses have taken the decision to update all apprenticeship syllabuses to contain a sustainability module from now – as opposed to waiting for the national syllabuses to update – making them up to a decade ahead of the competition.
This year has seen the college invest more than £1 million after receiving a grant from the Strategic Development Fund as part of a partnership led by The Lancashire Colleges to develop a pioneering Low Carbon Hub.
The Hub is packed with cutting-edge technology aimed at helping small to medium sized businesses reduce their carbon footprint and achieve net zero.
The training available will cover everything from behavioural changes to sophisticated technological solutions for energy management.
Burnley College is making continuous climate-friendly developments and has expanded its electric car charging bays to ensure those who are already taking advantage of the electric car revolution have somewhere to park and top up.
Bringing in industry expertise is essential in planning for the future. Themis prides itself on working closely with leading employers around Lancashire to ensure they're providing the very best for learners and industry when it comes to sustainability training.
From November 2022, every single new Themis Apprentice, from Level 2 up to Degree-Level Apprenticeships and higher, will now take part the brand-new sustainability project.
They will hear from experts like John Woodruffe, Director of Burnley College's sustainability consultation partners Cube Thinking. He is sharing the latest information and analysis on where industry needs to improve, how to start businesses' quest to Net Zero and why putting sustainability at the forefront of training is vital for the future.
The apprentices will analyse their business, evaluate and design solutions and present their findings to their bosses – creating a bespoke, professional sustainability report.
The sessions have also been opened up to all college students, particularly Sixth Form students to ensure they get the latest industry knowledge.
January 2022 saw the College's brand-new Health, Education and Science Block open which is packed with energy saving, environmental features from air source heat pumps to solar panels.
The list of environmental initiatives across the Burnley College campus includes:
The Themis Apprenticeship Sustainability Framework
Burnley College Sixth Form Centre Sustainability Awareness Training
Multi-million Pound Green Developments
Low Carbon Hub
Staff Initiatives
Hannah Cutler, Head of Apprenticeships at Themis:
"Sustainability is a word we hear louder and louder every single day. We hear it from our new apprentices who are keen to make their mark on the world but do it in a responsible way.
"We also hear it more and more from our employers – many of whom are keen to reduce their energy consumption for economic reasons – and most have a true passion to preserve the planet.
"We thank all of our employers, partner and of course our apprentices for supporting Themis in our drive to ensure sustainability remains a key factor in industry long into the future – and there is a future for it to exist into."
Neil Burrows, Director of Skills and Innovation at Burnley College says they are always making ambitious plans:
"Lancashire led the way in the Industrial Revolution. We will lead the way once again in the Green Revolution. As a county we have a workforce who are thirsty for new skills and knowledge alongside employers who are not afraid to lead the way in embracing new technologies and working practices."
Find out more about Burnley College's commitment to sustainability at https://www.burnley.ac.uk/about/sustainability/