Aerospace Supporting Young Talent And the Work Placement Team for T-Level Business or Digital Students In The Next Academic year at Cardinal Newman College in Preston, Lancashire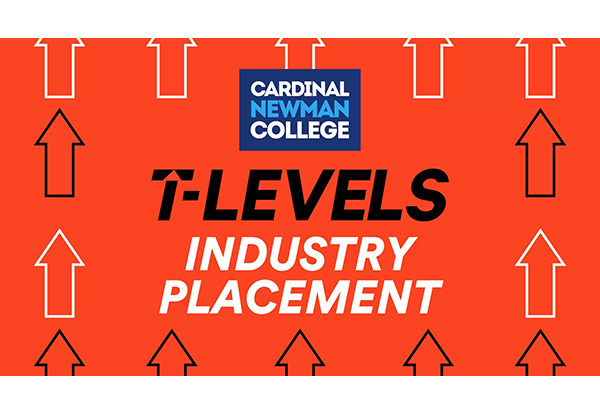 Attracting young talent should be a key goal for your company T Levels are qualifications for students aged 16 to 19 who have completed their GCSEs. They are a 2-year qualification and the equivalent to studying 3 A levels an have been specifically designed with employers, to give them the skilled workforce they need by helping young people develop their knowledge, attitude and practical skills to thrive in the workplace.
T Levels and Employers
T-Levels, are a fairly new qualification that our members may or may not be aware of. They are a revolution in technical education, and Cardinal Newman are one of only 50 selected providers to be offering these qualifications across the UK. You can find out more in this video – T-Levels Explained >>
In September 2020, we launched T-Levels in Education & Childcare and Digital and in September 2021 their first cohort of Science T-Level and Health T-Level students enrolled at Newman.
The continued success of T-Level courses is highly dependent on the work placement element of the course. It is critical to the success of the T-Level courses as it gives students the opportunity to gain skills specific to their subject or industry of choice, as well as the employability skills required for real-life work. It also ensures their knowledge is developed and addresses any skill gaps.
Broad focus is across key areas of HR, operations and logistics and finance, project management and planning
For Business the broad focus is across key areas of HR, operations and logistics and finance, project management and planning (preferably not a heavy marketing focus as this is not on specification) and for digital we would expect the student to be involved with generic IT duties of the company, as well as all aspects of data analysis and helpdesk. For both T-Levels, the placement would start in Jan 2023 and be 1 day a week (Weds) with occasional block weeks and this runs throughout the 2 academic years. The placement is term time only but students are allowed to do additional placement hours in the holidays if the student and the employer agree this.
As the students are Preston based more local based businesses would be ideally suited (Preston, Clitheroe, Blackpool, Blackburn etc).
To Register Your Interest in working with young talent and are serious about offering a placement for a digital then please contact 'Work Placement Officers' Jo Moore & Abi Stevens direct: placementoffice@cardinalnewman.ac.uk