Airframe Designs Launch New Facility & Accelerate Entry Into Additive Manufacturing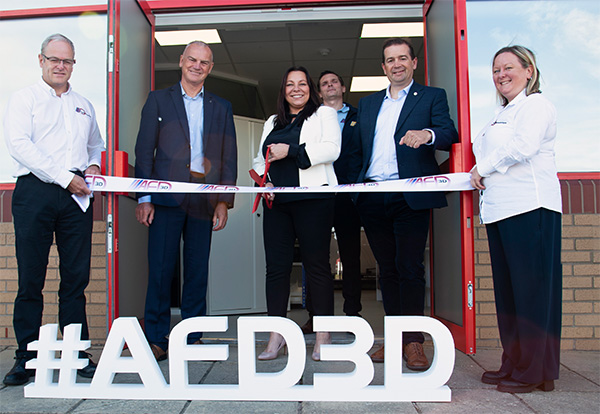 Blackpool-based Airframe Designs Limited (AFD) has accelerated its entry into Additive Manufacturing by completing the refurbishment and furnishing of their new #AFD3D production facility and NWAA Chairman Andrew Schofield and CEO Paula Gill were delighted to officially launch this new branch.
#AFD3D is a new branch of Airframe Designs, established to focus on the supply of cross-sector 3D engineering and manufacturing services, encompassing 3D modelling, 3D scanning and 3D printing.
The new facility is adjacent and allied with their engineering design centre located at the heart of the Blackpool Airport Enterprise Zone.
The facility provides all of the necessary functions to support digital 3D additive manufacturing services and is under-pinning a progression towards becoming a UK CAA Part21G production organisation to enable the production of airworthy parts in the future.
Prof Andrew Schofield, NWAA Chair "It was a pleasure to visit the facility at Airframe Designs and to see the investment being made. Jerrod and his team are really embracing the meaning of Industrial Digital Technology with the introduction of an Additive Manufacturing capability. Airframe Designs has a very strong engineering foundation and is an extremely forward-thinking organisation looking to grow and diversify into new business areas"
Paula Gill NWAA CEO "It is great to see the fantastic achievement and development of future ideas, products, and technology being created in the Airframe Designs impressive new facility, with up to the minute Additive Manufacturing techniques, the new branch 'ADF3D' is set to create new opportunities for growth within their Sector and beyond, more jobs and attracting business investment opportunities into the area. Well done Jerrod and Team!"
Jerrod Harley AFD Owner "It's been a lot of hard work and investment to prepare the facility and introduce the resources over a short space of time. The addition of the manufacturing branch is a natural addition to our existing engineering design services, enabling the business to bring turn-key solutions in polymer part delivery to customers looking for a holistic service in design, analysis, certification and manufacturing."