American Football legend and soccer star wife encourage Burnley College students to 'Dream Big, Work Hard' on tour of £110 million Campus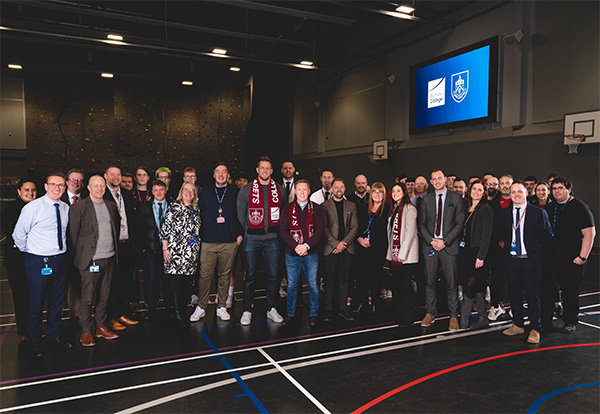 One of the most famous – and successful – American footballers of all time, JJ Watt, and his wife Kealia, an international footballer, were welcomed to Burnley College's £110 million Campus to meet learners and staff and view the impressive facilities.
The NFL (National Football League) star has recently retired from playing with the Arizona Cardinals after a glittering 12-year career at the very top of his sport. He was named NFL Defensive Player of the Year three times, as well as Sportsman of the Year for Sports Illustrated.
His wife has played in the top flight of football in the USA for the Chicago Red Stars and Houston Dash, as well as representing her country at all levels internationally.
During their tour, accompanied by Russell Ball, Chief Operating Officer at Burnley Football Club, the pair enjoyed insights into the latest technology and learner experiences which make Burnley College the destination of choice for ambitious learners after GCSEs.
Karen Buchanan, Principal of Burnley College, said:
"It was a pleasure to welcome JJ and Kealia to College and to give them a real taste of what makes Burnley College so very special.

"Plus, it was an unmissable opportunity for our learners – many of whom are American football fans – and staff to greet one of the truly inspirational legends of the game.

"JJ's ethos is 'Dream Big, Work Hard' and that's one we share here at Burnley College. We encourage every learner to have ambition and the self-belief needed to achieve their dreams and we work tirelessly alongside them to support them in reaching their goals."
On their tour, JJ and Kealia enjoyed demonstrations of the very latest construction and drone technology, as well as 3D printing, with staff presenting them with personalised mementoes of their visit to take back to the USA. They also discovered more about how the College is backing this year's Brit Challenge to support positive mental health in young people, as well as how the College works with Apprentices through its training arm Themis and undergraduates through Burnley College University Courses. They also took time out of their busy schedule to record an interview with the College's talented Media students.
JJ and Kealia were also treated to a taste of the recent Burnley College Takeover at Turf Moor, when the Clarets took on Huddersfield and triumphed 4-0. Creative Arts students performed music and dance routines they had created for the day, while A Level staff and learners chatted about a Burnley Football Club poem they penned which was featured on the big screen before he match.
In Fitness Evolution, the College's £6 million sports and fitness facility, JJ watched sports students undergo a training session using the very latest football technology before having a go himself. He also toured the cryotherapy chamber and environment chamber, as well as the spa and elite strength and conditioning gym, before taking time to sign autographs and pose for selfies.
JJ said:
"The facilities here at Burnley College are brilliant: it really is a beautiful College and the Students and Staff are incredible.

"The College has everything you need to be successful in whatever path you should choose."
The visit formed part of a trip to East Lancashire which saw the NFL hero spend time at Turf Moor and take in the weekend's match which saw the table-topping Clarets run out 3-0 winners in a clash with Wigan Athletic.
JJ is the latest in a long line of visitors drawn to Burnley College through its reputation for academic excellence and the exceptional experience it offers to all learners. Over the previous 18 months the College has welcomed Prime Minister Boris Johnson, Leader of the Opposition Keir Starmer and the Archbishop of York Stephen Cottrell, as well as professional athletes to train at Fitness Evolution and representatives from the Department for Education and leading Colleges across the UK.
For pupils taking their GCSEs this summer, priority applications close soon to start A Level, T Level, Vocational study or apprenticeships at Burnley College this September. Talk to our School Liaison Team now to discuss your options (email cadmissions@burnley.ac.uk) or arrange a visit.