BAE Systems is recruiting 1,000 highly-skilled engineers over the next year as it gears up for a once-in-a-generation opportunity to reshape the future of combat air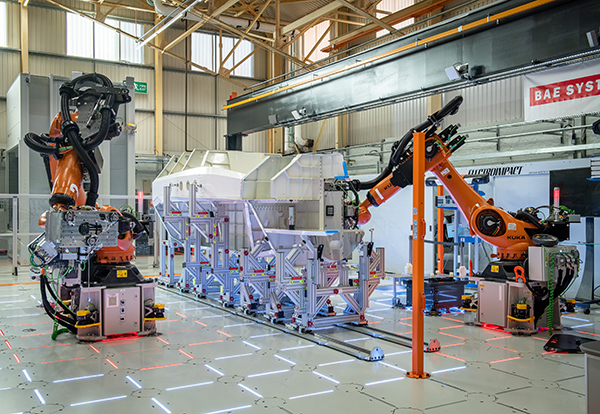 BAE Systems launches recruitment drive to take on 'once-in-a-generation opportunity'
BAE Systems is recruiting 1,000 engineers over the next year as it gears up for a once-in-a-generation opportunity to reshape the future of combat air.
Last week, it was announced that the company will lead the UK industry response to the development of a new combat air demonstrator which will fly within the next five years, playing a critical role in proving the technology needed to deliver the UK's Future Combat Air System (FCAS).
The new roles will support this effort and also programmes including the next generation of capability for Typhoon, which makes up the frontline of today's RAF, and the development of electric and unmanned aircraft.
Dave Holmes, Technology & Manufacturing Director, BAE Systems Air, said:
"There has never been a more exciting and rewarding time to be involved in this industry, because what we are doing is re-designing the way the world's air forces will operate for generations.
"The announcement of our FCAS flying demonstrator is the starting point for a surge towards creating the technologies which will make a real difference to our national defence and security, protecting those who protect us.
"But that programme is just one of many similar programmes where we need engineers to work on such as developing the next generation of capabilities on Typhoon or engineering the way that pilots train in the future.
"We don't just need engineers, but also manufacturers and all the people in supporting roles who make a programme like this happen."
BAE Systems has launched a Talent Pool registration website for people interested in working on its future programmes to register their interest.
The website can be found at www.baeystems.com/talentsignup
Engineers at company's sites across the North of England are leading the design, test, evaluation and build process, bringing together new and novel digital engineering technologies such as synthetic modelling and model-based systems engineering.
These future technologies are at the heart of its work behind the FCAS concept demonstrator aircraft, developing a new cockpit for a future standard of Typhoon and working on electrically-powered aircraft which help air forces to meet their Net Zero commitments.