BEIS Bulletin – 17th June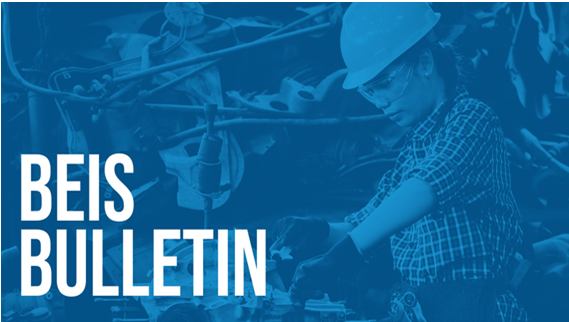 Welcome to the BEIS Bulletin from the Department for Business, Energy and Industrial Strategy.
Here's the latest news from BEIS:
Northern Ireland Protocol Bill published
The Government has published a Bill to unilaterally amend the Northern Ireland Protocol to fix those issues it believes are not working in the negotiated agreement.
Provisions in the Bill include:
• Establishing a dual regulatory regime to allow businesses to choose whether to meet EU or UK standards or both, if possible, in Northern Ireland;
• Introducing new 'Green Lane' and 'Red Lane' routes for goods – under a UK-operated trusted trader scheme, goods staying in the UK would no longer be required to undergo customs checks and duties or provide certification for agrifood. Goods going to the EU, or moved by traders not in the trusted trader scheme, would be subject to full checks and controls and full customs procedures;
• Allowing the government to set UK-wide policies on subsidy control and VAT; and
• Removing the role of the EU Court of Justice in dispute settlement.
Further details are available in the press notice on GOV.UK
---
More employees now eligible for Help to Grow scheme
Ministers have amended the rules for the Help to Grow: Management programme to enable businesses with ten or more employees to have up to two participants join the scheme, where previously businesses could only have one participant on the scheme. In addition, previous participants on the Small Business Leadership Programme will also now be eligible to join the scheme.
Help to Grow: Management offers business leaders 50 hours of leadership and management training across 12 weeks, and now includes mentoring from the likes of Santander, Google and award-winning mentor Herman Stewart.
More information about the schemes and how to apply is available on the dedicated website and in the press notice on GOV.UK
---
National security and investment report
The Government has published the first-ever report on the UK's new national security and investment system. 222 deals have been notified to the government and assessed within deadlines in the first year. Businesses are advised to check the guidance on the new regime to ensure they are fulfilling their legal obligations.
---
Applications for The Queen's Awards for Enterprise are now open
The awards scheme, founded in 1965 has been celebrating fantastic British businesses ever since. There are four categories: International Trade, Innovation, Promoting Opportunity (through Social Mobility) and Sustainable Development.
Does your company have what it takes to win a Queen's Award for Enterprise? Find out more here
---
Other news:
• DEFRA has announced the Government's first ever Food Strategy, backing our farmers by helping to increase domestic production, spread jobs and grow the economy. Find our more in the press notice on GOV.UK
• The Customs Declaration Service is ready to use now for making import and export declarations. Visit the guidance page for a list of agents who can help you manage your declarations.
• The Department for Transport has launched a campaign to kickstart careers in logistics and create a more environmentally friendly and resilient haulage sector. Find our more in the press notice on GOV.UK