BEIS Bulletin – 20 January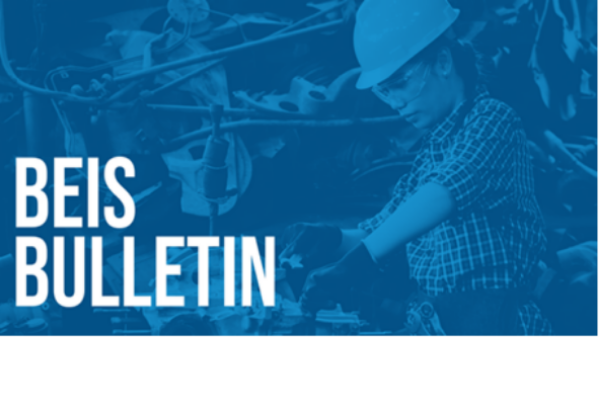 Welcome to the BEIS Bulletin from the Department for Business, Energy and Industrial Strategy.
Covid restrictions lifted in England
The Prime Minister announced yesterday that plan B restrictions are to be lifted in England. From today, the government is no longer requiring people to work from home if they can. Employers should start speaking to their staff about arrangements for returning to workplaces, whilst continuing to follow the Working Safely guidance.
From Thursday 27th January, face coverings will no longer be required by law in any setting, although public health guidance recommending individuals should continue to wear a face covering in crowded and enclosed spaces where they may come into contact with people they do not normally meet will remain in place.
Also from next Thursday, venues and events will no longer be required by law to use the NHS Covid Pass. However, the Pass will remain available on the NHS App as some venues may still voluntarily choose to require proof of COVID status as a condition of entry to reduce risk for attendees and staff.
Businesses can find assets summarising these changes on the coronavirus resource website.
Separate guidance is in place for Scotland, Wales  and Northern Ireland.
---
Launch of Help to Grow Digital
The Help to Grow: Digital scheme to support smaller businesses in adopting digital technologies opened for applications today.
Under the scheme, eligible businesses can receive discounts of up to £5,000 off the retail price of approved digital accounting and CRM software from leading technology suppliers. This software will assist them in effectively managing finances and building customer relationships, and help them to scale up.
Businesses can also access practical support and advice on how to choose the right digital technologies to boost their growth and productivity through a new online platform.
We have put together a toolkit to promote the scheme – if you have any dealings with smaller businesses as part of your networks or supply chains, do please use the assets in the toolkit to encourage them to sign up.
________________________________________________________________________________
Other news:
The rules around self-isolation in England have been updated, allowing people to end their self-isolation after five full days, as long as they test negative on day 5 and day 6. It is crucial that people isolating with COVID-19 wait until they have received two negative lateral flow tests on two consecutive days to reduce the chance of still being infectious. The self-isolation period remains 10 full days for those without negative results from 2 lateral flow tests taken a day apart.
‌‌‌Full customs controls came into effect on 1‌‌‌ ‌January‌‌‌ ‌2022 between the EU (except the island of Ireland) and Great Britain. HMRC has a range of support on their help and support for UK transition page. Alternatively, businesses can call the Customs and International Trade (CIT) helpline on 0300‌‌‌‌‌ ‌322‌‌‌‌‌ ‌9434, 8am‌‌‌ ‌to‌‌‌ ‌10pm‌‌‌ ‌Monday‌‌‌ ‌to‌‌‌ ‌Friday, and‌‌‌ ‌8am‌‌‌ ‌to‌‌‌ ‌4pm‌‌‌ ‌at‌‌‌ ‌weekends.
________________________________________________________________________________
Useful links: