BEIS Bulletin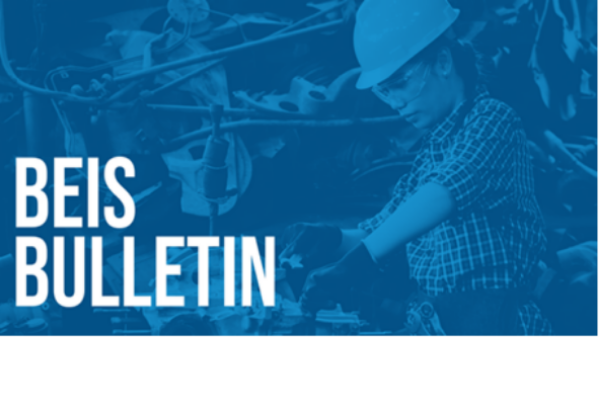 Welcome to the BEIS Bulletin from the Department for Business, Energy and Industrial Strategy.
Here's the latest news from BEIS:
Spring statement – measures for business
The Chancellor this week presented the Spring Statement. Measures to support businesses include:
Cutting fuel duty on petrol and diesel by 5p per litre for 12 months, worth around £200 for the average van driver and £1,500 for the average haulier.
Increasing the Employment Allowance from £4,000 to £5,000, allowing eligible businesses to reduce their employer National Insurance contributions each year.
Bringing forward an exemption on business rates for green technology, saving businesses an extra £35 million in 2022-23.
Reforming R&D tax credits to enable businesses to claim relief on the storage of their vital data and pure maths research.
The Treasury has also announced a series of potential policy changes to the UK's existing capital allowances regime, which the government will consider ahead of April 2023.
Further information can be found in the press release and Business Support fact sheet.
---
Businesses urged to increase cyber security
The National Cyber Security Centre is supporting President Biden's call for increased cyber security vigilance in response to Russia's illegal invasion of Ukraine.
While the NCSC is not aware of specific, targeted threats to the UK, all organisations should be vigilant to cyber risks, and the NCSC has published guidance for organisations to reduce their risk of cyber compromises.
---
Automotive Roadmap sets out expansion to electric vehicle infrastructure  
The government has today unveiled its Automotive Roadmap, alongside new plans for expanding the numbers of electric vehicle (EV) charge points. The EV Infrastructure Strategy sets out how the UK will reach 300,000 EV charge points by 2030, and will see new legal requirements to allow EV drivers to pay by contactless, compare charging prices and find nearby charge points via apps.
The Automotive Roadmap is backed by £1.6 billion of investment, and sets out joint government and industry commitments to decarbonise road transport, enable the automotive sector transition to zero emission vehicles and support the UK's energy security by reducing our demand for petrol and diesel.
---
Customs regime – call for evidence
HMRC and the Treasury have published a call for evidence asking businesses and traders to give their opinion on how the customs system is working and what improvements they would like to see in areas such as the customs declaration process, working with customs intermediaries and how transit facilitation can be improved.
Businesses can contribute at the Call for Evidence page on GOV.UK.
---
Other news: