Bowers Group Takes Centre Stage with Innovative Metrology Solutions at Control Exhibition 2023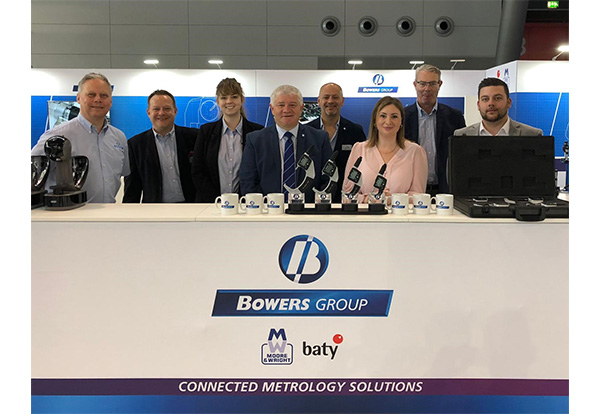 Bowers Group is celebrating having successfully showcased its cutting-edge metrology solutions to a crowd of industry leaders at this year's Control Exhibition. As a renowned British metrology company, Bowers Group took full advantage of the bumper crowds and highlighted its expertise in quality control and assurance.
Control Exhibition is a highly respected international trade fair that takes place annually in Stuttgart, Germany. It provides a platform for professionals, manufacturers, and service providers to showcase the latest advancements in technology, products, and services related to quality control and assurance in manufacturing, production, and engineering.
Richard Grocott, Bowers' Export Sales Director, was thrilled with the turnout, stating, "We've had a fantastic time exhibiting at Control 2023. It always proves to be a highlight in our calendar, but this year has been something special. Control offers us the invaluable opportunity to catch up with distributors from around the world and we would like to offer our sincerest thanks to everyone who took the time to visit us. It was great to see such a large turnout; it completely exceeded our expectations, and we really enjoyed getting to see both old faces and new."
During the exhibition, Bowers Group demonstrated its excellence in connected metrology by showcasing several innovative products. Offering live demonstrations of a range of Bluetooth-enabled hand tools that worked in conjunction with Sylvac's Sylcom software, the team was able to highlight how connectivity can improve efficiencies and reduce errors.
Visitors were also able to see Bowers' highly accurate digital external micrometer, DigiMic, which features advanced, built-in Bluetooth connectivity, as well as the Baty Venture Plus XT, which features standard zoom optics and programmable, segmented LED surface lighting. Baty's SM350 vertical light path 350mm / 14″ diameter screen bench projector was also on display.
The group was also delighted to be able to showcase its oldest brand, Moore & Wright, offering a range of high-quality and affordable handheld metrology instruments, including micrometers, calipers, indicators, and general workshop measurement tools.
Bowers Group's successful participation in the Control Exhibition once again proves a testament to its continued dedication to advancing the field of metrology and the commitment to providing the highest quality solutions to its clients.