Bowers Group Exhibiting Connective Metrology Solutions at Southern Manufacturing 2023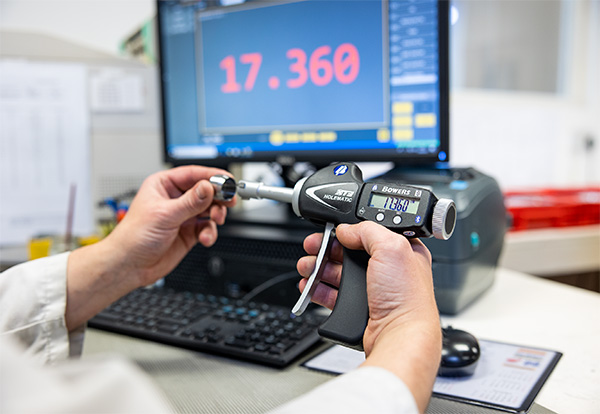 Bowers Group will be exhibiting a range of connective metrology solutions at Southern Manufacturing and Electronics Exhibition in 2023. Visitors can expect live product demonstrations to illustrate how effective data transfer between measurement equipment and applications can boost manufacturing productivity.
On display will be a range of Bluetooth enabled hand tools and height gauges working in conjunction with Sylvac's Sylcom software, showing how connectivity can improve efficiencies and reduce errors. Visitors will have the chance to see Bowers' Made in Britain registered, digital external micrometer, DigiMic, which features advanced, built-in Bluetooth connectivity. Offering quick, simple, and highly accurate measurements, the DigiMic can be easily integrated into any Industry 4.0 / SPC system.
The latest addition to optical measuring systems from Sylvac, the Sylvac Scan S25T, will also be present on the Bowers Group stand. Using the latest Sylvac-Scan technology, this high resolution & high accuracy machine is ideal for rapid measurement of small cylindrical parts up to 26mm diameter and 200mn in length. Delivered automation ready, the Sylvac Scan S25T comes equipped with Sylvac's renowned tilt axis, for comprehensive thread measurement, capable of measuring threads with helix angles up to 30 °.
The Venture XT, Baty's highly flexible multi-sensor vision system will also be on the stand, demonstrating the latest Fusion Software release featuring lens error mapping and off-line vision/touch-probe programming from CAD. The combination of contact and non-contact measurements in the same automated inspection, combined with ease of use and graphical reporting make Baty's Venture XT a cost-effective measurement solution for both production cells and QC labs alike.
Bowers Group Sales Manager Ryan Kingswell said: "We are delighted to be exhibiting at Southern Manufacturing again, where we'll have the opportunity to demonstrate our skills and capabilities as a full metrology solutions provider specialising in connectivity. In addition to our own manufactured products, we will also be demonstrating products developed by our partners which complement our entire service offering."
Taking place in Farnborough from 7th – 9th February 2023, the Southern Manufacturing and Electronics Exhibition is the UK's largest regional manufacturing technology, electronics and subcontracting exhibition. Not only will there be thousands of engineering and electronics solutions on display, visitors will also have the opportunity to attend a full programme of free technical seminars.
Visit Bowers Group at the Southern Manufacturing and Electronics Exhibition 2023 on stand L240.