Bowers Group Launch Exciting Update to Fusion Software for Baty Product Range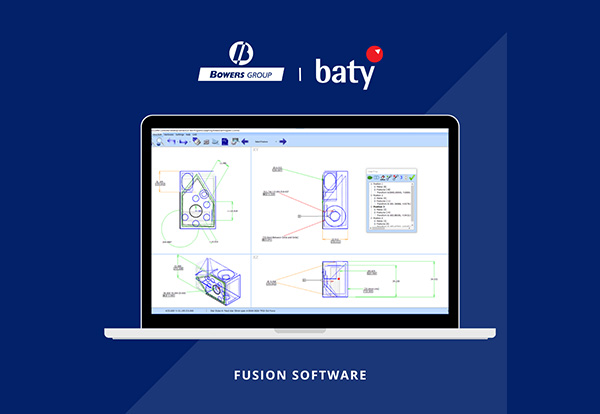 Bowers Group is pleased to announce a series of significant updates to its market-leading metrology software, Baty Fusion. Designed to work seamlessly with Baty's range of vision machines and profiles projectors, the software updates represent Bowers Group's ongoing commitment to delivering innovative and enhanced solutions to its valued customers.
The latest version of Fusion introduces several key features and improvements that will revolutionise inspection workflows. Based on valuable feedback from customers and industry experts, the updates have been developed to ensure the software continues to meet the evolving needs of end-users.
Highlights include a new touch probe lobing calibration option, an all-new CAD window with improved tools, as well as the innovative Leapfrog feature which allows you to measure parts larger than the working volume of the machine and can now also be used to measure parts that require rotating to gain a full 3D vision inspection of the part.
"We are thrilled to introduce these improvements to Fusion software to our customers," said Emma Bramley, Product Development Manager at Bowers Group. "The update works seamlessly with our range of Baty vision and FT2 products and offers many new features enabling quicker, faster, and more accurate inspections. The improved DXF curve fitting window is just one of several great new features that we're sure many of our customers will truly benefit from."
The new DXF menu uses an improved algorithm fitting the curve profile to persisted feature pairs, which also includes the ability to automatically refit the profile after each workpiece completes.
Additional features include vector colour specification for specialised edge detection applications, the added ability to show the minimum thickness between two curves, as well as an even larger range of allowable feature constructions. There is also a more customisable operator mode, and significant improvements to reporting such as developments to dimensions with tolerance warnings, and an added calculate function to run Excel formulas embedded in templates. In addition to these exciting new features, the latest update includes performance enhancements, bug fixes, and improved overall stability, ensuring a smoother and more reliable user experience.
With the new, free-of-charge update to Fusion available to all customers already using the Fusion MK4 software, Bowers Group remains committed to providing excellent customer support and user-friendly software solutions. The group encourages all users to take advantage of the latest updates, with its dedicated support team available to assist with the transition and answer any questions.
For more information about the latest updates to Baty Fusion software, please visit www.bowersgroup.co.uk or contact sales@bowersgroup.co.uk