Bowers Group Launch New Exclusive Offers and Hotlist for 2022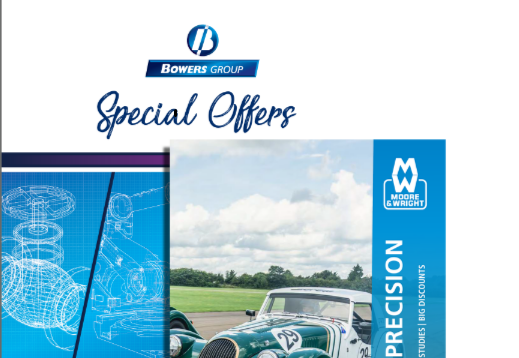 As a leading manufacturer and supplier of precision measurement solutions, Bowers Group is pleased to announce the launch of its Special Offers and Hotlist promotions for 2022.
With impressive deals available, as well as highlighting some of the most popular tools across its extensive range of metrology equipment, featuring the newly launched DigiMic external micrometer and innovative solutions such as the NEW Baty R400 FT2-E Profile Projector, these exclusive brochures are perfect for those looking to improve their portfolio of tools over the coming year.
UK Sales Manager, Ryan Kingswell, said, "Our brand-new brochures are a great resource for anyone looking to expand their precision measurement abilities in 2022. With many fantastic offers available, as well as highlights such as case studies and an overview of many of its most popular machines and tools, the brochures are available to order physically or to view online via our website. We're expecting plenty of interest with such competitive prices and we're looking forward to helping many businesses get their New Year off to a flying start."
Bowers Group works closely with many popular manufacturers from around the world, such as Trimos, Sylvac, and Wyler and are perfectly placed to offer the UK market impressive deals on products within its Special Offers brochure.
With up to 10% off selected products, including the Sylvac scan range, the XT Groove Set, and fantastic deals such as 15% off the brand-new DigiMic and a free accessory kit available with Trimos V7 Height Gauge, there hasn't been a better time to invest in effective and reliable metrology equipment.
Also out now, the new Moore & Wright Hotlist is a showcase of some of the newest and most impressive tools from the world-renowned name in measurement tools. A well-loved brand with over 100 years' experience under its belt, the Moore & Wright range of tools offers high quality and reliable precision.
The Hotlist offers up to 50% off a range of tools including an impressive 40% saving on the Workshop Digital Caliper 110-DBL Series, as well as 10% off the Bowers Mechanical XT Analogue Bore Gauge.
For more information about our Special Offers and Hotlist Promotion or to arrange a demonstration of the features of the product, contact our sales team by calling 08708 50 90, emailing sales@bowersgroup.co.uk, or by visiting our website, https://www.bowersgroup.co.uk/offers-spring-summer-2022