Burnley College Engineering learners compete to represent UK in prestigious WorldSkills contest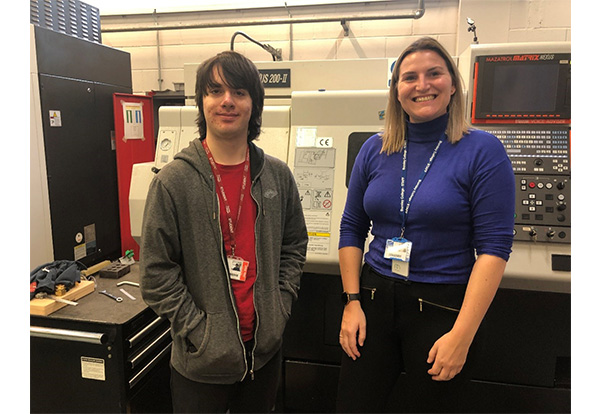 Two Burnley College learners with exceptional skills in Computer Aided Design and 3D Printing are preparing for the next stage of the "Engineering Olympics".
WorldSkills is a global competition which fosters excellence in a myriad of skills in a wide variety of industries, from aircraft maintenance to accountancy.
Lucas Haslam and Igor Dolgan are competing in the CAD and Additive Design (3D Printing) heats taking place at Burnley College on 7 June.
Lucas (19), from Accrington, a former pupil at St Christopher's High School Academy, is in the second year of his Advanced Manufacturing Engineering programme. Igor (18), from Burnley, a former pupil at Blessed Trinity College, is a Themis Apprentice, employed at Johnson Matthey and studying for a HNC in Mechatronics at Burnley College University Courses.
The heat will see both learners given a complex brief and set of engineering illustrations to transfer into Fusion 360, an industry-standard CAD program. They have five hours to complete the task which mirrors the daily work of design engineers.
Burnley College has an amazing track record of entrants, including Themis Apprentice Kieran McShane who last year travelled to Ohio in America to represent the UK in the Construction Metalwork Finals and Apprentice Tyler Atkinson, who came an outstanding 11th place in the World Finals in Kazan, Russia, in 2019.
Plessey Black, Curriculum Manager in Engineering at Burnley College, says the competition really challenges entrants:
"There are so many different levels to the tasks we see in the WorldSkills competition.
"It's about problem solving and it's about working within time constraints. It's a tough ask and Igor and Lucas are well aware of the pressure they will be put under."
She is not worried about whether they will be able to deliver though:
"From the first time you meet Lucas, it's apparent he has an incredible talent for engineering. He loves puzzles, he can solve a Rubik's Cube in double quick time and has a passion for maths. That curiosity and puzzle-solving brain makes him a natural 3D designer.
"Igor is a force of nature. He is studying additional units on his higher level studies and, during his previous course, studied towards an additional A Level Biology qualification.
"Whatever happens in the competition, I can see Lucas and Igor continuing on to incredibly successful careers and thrive in the world of engineering."
With both CAD and Additive Design now an essential area of modern engineering, Burnley College is offering the programmes and facilities to ensure learners at all levels have every opportunity to stay ahead of the curve.
Alongside Apprenticeship training; Vocational and university-level programmes, the college now offers a series of in-demand Adult Learning classes including Introduction to Advanced Additive Manufacturing (3D Printing). The programme is designed to allow a hobbyist or amateur user to have the confidence to buy, set up and start printing components, find faults and carry out basic repairs. The course starts on Thursday, 11 May, and runs for five weeks in the evening (cost is £175). More information: https://www.burnley.ac.uk/course/?Introduction-to-advanced-Additive-Manufacturing-(3D-Printing)-(Intermediate-course)&code=A7089
*Funding is available on all courses offered. Funding is reliant on multiple factors including geographical location and personal circumstances.
**for all 16-18 qualification levels as shown in the latest Government achievement rate tables.