Burnley College seven times finalist in prestigious education awards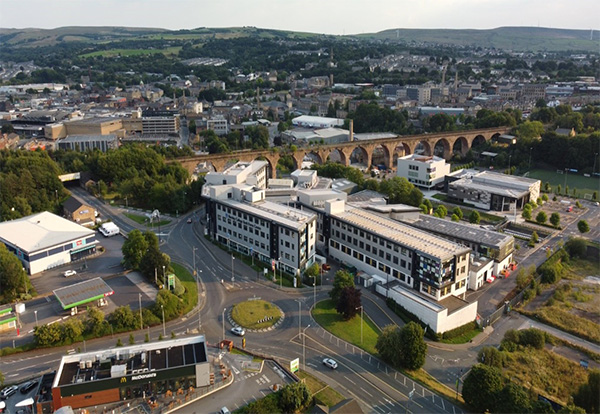 Proud staff and learners at Burnley College are celebrating after reaching the finals in an outstanding seven Educate North Awards – the premier education sector awards in the North of England.
From its pioneering work in the new Esports sector to its exceptional performance in the teaching of Science, Technology, Engineering and Maths (STEM), it's an unrivalled achievement after a year of record-breaking results, too.
And the College has been shortlisted in two of Educate North's premier awards categories – FE College of the Year and UK Apprenticeship Award.
The full list of categories Burnley College has been selected as a finalist in is:
• FE College of the Year
• UK Apprenticeship Award (Themis at Burnley College)
• Innovation Award (Esports)
• Student Experience Award (Esports)
• Music, Dance and Performing Arts Award
• Sustainable Green Initiative Award (Low Carbon Hub)
• Science, Technology, Engineering & Maths (STEM) Award
The amazing validation from a panel of education expert and industry judges comes after a year of record-breaking results for Burnley College which saw the highest percentage of A Level A* and A Grades in formal exam conditions, as well as a 100% pass rate in Advanced Vocational subjects for the 19th consecutive year.
And there's particular pride around the two places in the finals for the College's popular Esports courses. Burnley College has pioneered education in this exciting sector, linking with Burnley FC's Esports team; being one of the first UK Colleges to offer Vocational qualifications in the subject and rapidly growing both its student numbers and state-of-the-art facilities.
The Educate North Awards "celebrates, recognises and shares best practice and excellence in the education sector…" and is a highlight of the academic awards year. The spectacular awards ceremony takes place at The Midland Hotel, Manchester, in April.
Principal of Burnley College Karen Buchanan says:
"I'm so proud of every Tutor and every member of our support staff who have made it possible for us to create these incredible experiences for our Learners.
"By listening to the Student Voice and working closely alongside industry, we create the perfect environment to Build Futures and Change Lives. Together, we are creating individuals who will shape society and influence industry, whether it's in Science and Technology, Engineering, Performing Arts or even Esports.
"And, of course, we would not be in the finals of these Educate North Awards without the support of our outstanding Learners: they have the passion, the innovation, the imagination and the skills to help us deliver the best results we've ever had.
"To reach the finals in seven categories of the prestigious Educate North Awards is testament to that."
Do you want to study at an award-winning, record breaking College which is recognised as among the very best in the North of England? Do you want to be taught by Tutors who are passionate about their subjects and really bring learning to life? Do you want to learn in a College where the facilities are state-of-the-art and constantly expanding?
See just why we're Educate North finalists. Book on to our final Open Evening of the academic year and chat to industry expert Tutors and Students: https://www.burnley.ac.uk/whats-on/events/burnley-college-sixth-form-centre-open-evening-14-mar-2023/