Burnley College shares digital expertise at popular discovery event for business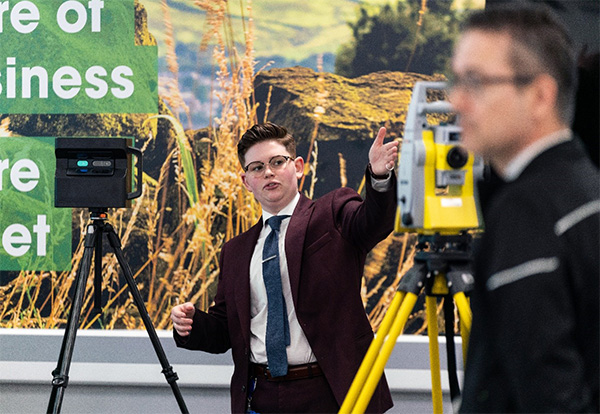 Leading figures from the world of business across the North West headed to Burnley College to discover how digital technologies are impacting on every aspect of our lives.
From the future of healthcare training to how new technologies are revolutionising the world of sport and fitness, delegates enjoyed a Discovering Digital Day which showcased the College's amazing facilities and revealed how learners have access to the very latest learning equipment.
Ashley Alderson, manager of North West Business Training, the College's successful business training arm, organised the popular event and said:
"It was great to see so many business leaders and entrepreneurs take time out of their busy schedules to take advantage of this unique opportunity.
"Everyone who came took away new skills or knowledge which they can put into use straight away in their business or personal life. It really opened their eyes as to how embracing the very latest digital technologies can make an impact and how they can harness the expertise of today's learners – the workforce of tomorrow – to see their businesses flourish in a quickly-changing economic landscape."
The Discovering Digital event included insights into the latest drone and digital technologies revolutionising the construction industry, as well as additive manufacturing, how business intelligence reporting is developing and how to make an impact through an enhanced social media presence. Delegates viewed the high-tech simulation suites – with real-life mannequins – which are helping to train tomorrow's healthcare professionals, as well as experiencing conditions in Qatar in the College's environment chamber and freezing temperatures in the cryotherapy suite.
Ashley added:
"At Burnley College we're passionate about digital technologies and are leading the way in purchasing the very latest equipment, offering businesses an opportunity to take advantage of our Tutors' expertise with these emerging technologies before they commit to invest themselves.
"In a world which never stays still, Burnley College is committed to staying ahead of the curve and playing its part in supporting the region's business community to embrace digital technologies which are changing the face of industry."
To discuss how Burnley College – through North West Business Training – can support your business to Discover Digital, email nwbt@burnley.ac.uk or call 01282 733273.