Burnley College Students join forces with Boohoo to raise money for Pendleside Hospice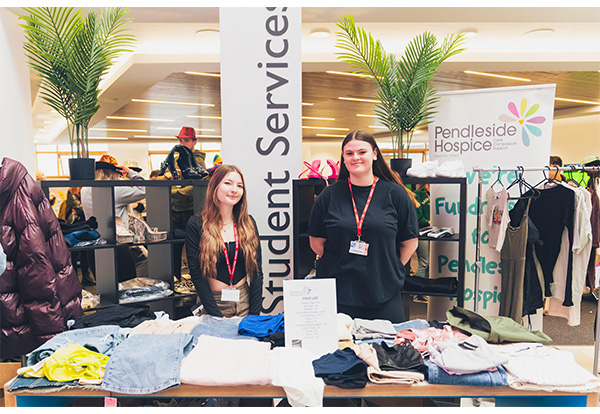 Handpicking stock, setting out stalls, even ironing! Burnley College students set up a pop-up fashion stall on Campus to raise money for Pendleside Hospice.
Business and Professional Studies students teamed up with Boohoo and Pretty Little Thing to plan, market and execute the fashion wear sale for charity.
The stall was part of Burnley College's Freshers' Fair which saw everything from fairground rides to fresh food stalls, arcade games to animals, volunteering opportunities to free haircuts.
It's the second time students have embarked on their fashion sales project and the results were equally as astounding, raising an additional £370 to add to the £1,319 they donated earlier this year to Pendleside Hospice.
Louisa Mayor, Head of Income Generation at the Hospice, said they are thrilled with the remarkable success:
"The students and staff at Burnley College demonstrated bags of enthusiasm, drive and creativity, making it an enormous success. Being able to engage the students in this meaningful project is truly priceless.
"We're so fortunate to have the support and buy-in from our community and staff and students at College, as well as our local businesses, too. Due to the collaborative success of Burnley College's previous two-day event, Boohoo kindly donated more of their clothing to help stock our retail shops, as well as support future events at Burnley College."
As well as raising cash, it was an excellent opportunity for Students to experience real-life business, using their skills in business, employability and digital technologies learned during their course.
Be part of a College which gives you the tools and support to bring your ideas to life and access the most exciting range of extra-curricular activities. Book your place on our next Open Evening now at https://www.burnley.ac.uk/events