Burnley College University Courses Class of 2022 share their pride with the borough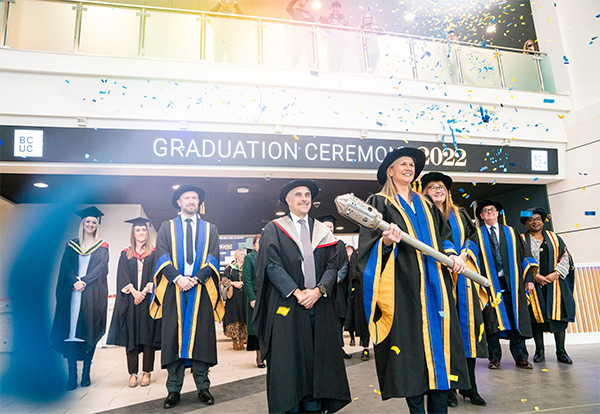 Proud Graduates of Burnley College University Courses were joined by civic leaders, dignitaries, their family and friends on a unique procession to their delayed graduation.
Due to the sad passing of HRH the Queen last September the ceremony was postponed as a mark of respect.
Tutors, support staff and families paraded alongside graduates from the Princess Way Campus to Burnley Mechanics, led by the Dean of Burnley College University Courses (BCUC) Nina Parkin. The culmination of the graduates' years of dedicated study was celebrated at the Class of 2022 Graduation Ceremony.
Nina Parkin, Dean of University Education at BCUC, said:
"Graduation day is a day of huge pride for our ambitious graduates and marks a milestone in their lives.
"Recognising and saluting the achievements of our incredible graduates has been amazing.
"It is the culmination of years of study and commitment and is the start of a whole new chapter for them as they launch successful careers and become future leaders with the drive and innovation to shape their chosen sectors."
Four special awards were also presented, honouring those who have gone above in beyond in their studies. The Academic Excellence Awards went to Magdalena Niemczyk and Jacqueline Allum. Kirsty Sharples was awarded the Dissertation Award and Daniel Seed won the Employer Project Award.
Gradates and guests were honoured with a celebratory speech by Alan Pace, the Chairman of Burnley FC & Managing Partner of ALK Capital.
Alan holds a Masters degree in International Finance from the IESE Business School in Barcelona, one of Europe's top business schools and explained how much of an honour it was to be invited to speak at the celebration.
Kasom Shah responded on behalf of graduates. He graduated with a First Class Honours degree in Sport and Exercise Science and is now progressing to study a post-graduate teaching qualification.
Former Accrington Stanley footballer, Kasom is using his degree qualification to carve a new career in teaching, supporting and mentoring young people and using his experiences to support his national work with the Professional Footballers' Association.
The procession left the Princess Way Campus travelled down Active Way and Standish Street before heading through Charter Walk and then on toward Burnley Mechanics where the platform ceremony took place.
Karen Buchanan, Principal of Burnley College said it is a day which always fills her with pride:
"Our graduates are testament to the passion, the dedication, the desire to improve and succeed which drives us here at Burnley College.
"It's an honour to be asked to attend and experience first-hand the joy of friends and family and to celebrate the outstanding achievements of everyone who has put so much time and effort into these exceptional qualifications."
The graduation ceremony at Burnley Mechanics Theatre followed a champagne reception at Burnley College's Campus, which has recently announced a three-storey extension of BCUC's already impressive facilities.
The £6.6 million project is scheduled to be completed in 2024 and will include facilities such as a cutting-edge lecture theatre, a cyber security suite and state-of-the-art laboratories.
For more information on how you could change your life through degree-level study in Burnley, contact 01282 733333 or email s.services@burnley.ac.uk. Our specialist advisors will show how you can harness your ambition and become an industry-shaping future leader.