Celebrating success – industry leaders, pioneering entrepreneurs and Best of the Best Themis Apprentices come together for spectacular award ceremony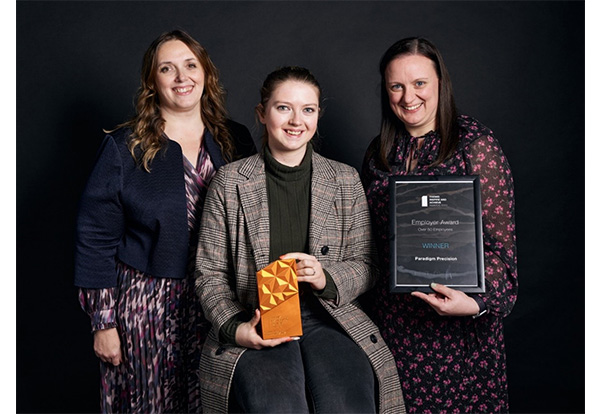 The glittering Themis Inspire and Achieve Awards 2023 have taken place, celebrating the success, the passion and the innovation of Themis Apprentices and leading employers in Lancashire.
The prestigious ceremony was held at Burnley Football Club and saw Themis Apprentices and Employers winning trophies in categories including Future Boss, Digital Pioneer and the Sustainability Award – see the full list of winners and nominees below.
Around 200 nominees, their family and friends, distinguished guests and proud employers attended the spectacular ceremony.
Guests and nominees heard from Lancashire entrepreneur Antony Chesworth, founder of EKM Systems Ltd – who spoke of the power of doing "something you like" and how positivity fuels success.
They were also addressed by Burnley MP Antony Higginbotham, who praised the "commitment, resilience, skill and innovation" on display.
Winners received one of the stunning, Themis-designed trophies, sponsored by Optimill Ltd and Mazak, and a state-of-the-art laptop from sustainable energy experts Green Shield Group, who were guests of honour on the night.
Karen Buchanan, Chief Executive of Themis, the Apprenticeship Training Arm of Burnley College and Principal of the College, said:
"The Themis Inspire and Achieve Awards are a highlight in the Apprenticeship calendar and it was an honour to recognise those amazing Apprentices and Employers in the fabulous surroundings of Turf Moor.
"Competition this year was tougher than ever, with a record number of nominees and shortlisted finalists. It made the judges' job of choosing the winners incredibly difficult.
"Themis is proud of its track record in supporting the development of the very best Apprentices in the region – the Apprentices who go on to be a #futureboss and who make an incredible impact in the workplace.
"Thanks to their dedication – and the commitment of the forward-thinking employers who support our Themis Apprentices on their journey to success – we can be confident that industry in the region is in the safest of hands going forward."
Follow in footsteps of our award-winning Apprentices by learning more about our industry-leading routes to success: https://www.burnley.ac.uk/themis-home/