Ceratizit Launches ISO-P Update for Their EcoCut Series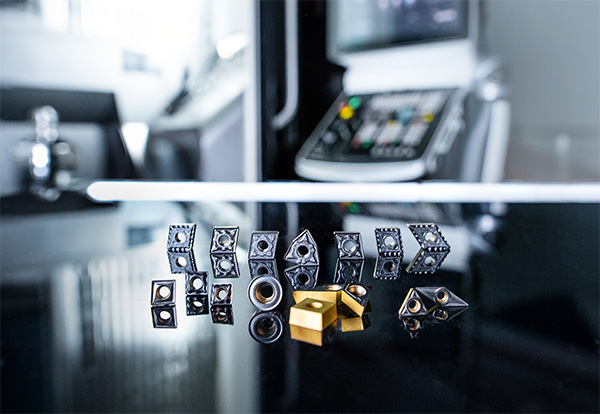 Machining steel – efficiently
ISO-P steels represent the largest of all metal material groups so for cutting tool manufacturers, covering all bases can be a challenging task.
However with the updated version of its tried and tested EcoCut series, tooling specialist Ceratizit is now delivering high-performance solutions for the universal turning and drilling of ISO-P steels.
The list of ISO-P steels is long and its diversity demands a wide range of high-performance tooling solutions. When low carbon, ductile and high-alloy steel grades of different hardness arrive at the turning centre for machining, no single product in isolation can tick all the boxes.
Which is why the turning specialists at Ceratizit have repositioned their indexable insert grades to accommodate the machining of ISO-P materials. The classic EcoCut has also been updated to tackle the machining of challenging steels.
Whether it's drilling with a stationary or rotating tool, or the turning of face, inside or outside profiles, Ceratizit says the EcoCut is the Swiss army knife of cutting tools and the first choice for a wide range of applications.
Alongside the EcoCut Mini and EcoCut ProfileMaster, EcoCut classic tools offer true versatility within the series. Diameters from 8 to 32mm can be machined with their indexable inserts, providing reduced setup times and increased productivity.
"EcoCut tools have long been excellent performers in our product range – but that doesn't mean we're resting on our laurels," explains Paul Höckberg, product manager cutting tools at Ceratizit.
"On the contrary, the supplementary -P designation brings with it the capability for machining ISO-P steels. The user can either increase cutting data and machine faster or stick to original parameters and benefit from longer tool life. Extensive tests have shown that the new EcoCut-P grades offer 15% greater performance than their predecessors."
"For the best machining results in steel you also need an optimised coating so we've developed our special Dragonskin coating for ISO-P materials which is engineered to increase tool life and reduce machining time through an optimised layer structure," adds Stefan Karl, product manager cutting Tools at Ceratizit. "The mechanical post-treatment induces a state of residual stress in the layer surface, which in turn increases process security."
Dragonskin grade CTCP425-P with an advanced AL2O3-TiN CVD coating is particularly impressive when uninterrupted cuts are required. It delivers excellent wear resistance even at increased cutting speeds.
For general steel machining with interrupted cutting, the AL2O3-TiN CVD Dragonskin grade CTCP435-P offers an ideal solution: "Whenever poor machining conditions exist, and in all applications where a high degree of toughness is required, CTCP435-P comes to the fore with its stability and reliability," Mr Karl affirms.
Another advantage for EcoCut-P users is the new indexable insert indicator layer which allows the user to monitor insert wear progress and know when it's time for replacement. If wear is detected too late, machining quality may already be severely impaired.
"It can be a very costly problem," Paul Höckberg asserts. "If the machine is being driven hard and the cutting insert breaks through wear, in the worst-case scenario the workpiece will already be damaged – often with significant financial consequences. The new indicator layer provides plenty of warning when a replacement insert is required."
Users will be pleased to learn that this enhanced performance comes at no extra cost: "The new EcoCut-P indexable inserts deliver up to 15% higher performance in ISO-P steels but at the same price as their predecessors," Mr Höckberg concludes.
The new ISO-P EcoCut cutting inserts will be available from stock in February 2023.
Ceratizit UK & Ireland
cuttingtools.ceratizit.com/gb/en/ecocut