CGTech to show expanding range of Aerospace Applications at Paris Air Show 2023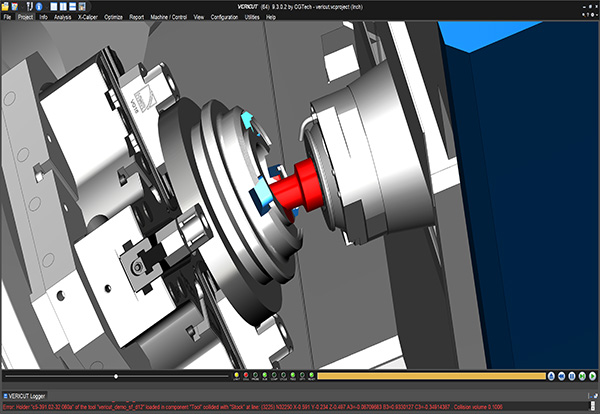 CGTech will showcase its expanded range of software applications for the aerospace industry in Hall 4, Booth E92, at the Paris Air Show between 19th – 23rd June 2023. VERICUT is the industry standard for simulating CNC machining to detect errors, potential collisions, and areas for improvement. The software operates independently, but also integrates with all leading CAM systems.
VERICUT is widely used in aerospace and defense and the latest release, VERICUT 9.3, boasts enhancements to the core software that create "smarter," more efficient manufacturing processes. New features focus on bringing in data around the machine, the tools, and the stock to improve simulation and the overall manufacturing workflow. Improvements have been made to strengthen VERICUT's core, including improved collision checking, increasing the limit on axes per subsystem, and more. Cutting tool data in the Tool Performance Database and machine monitoring are only a few of the notable changes in this version.
In addition, CGTech will be demonstrating its VERICUT Force optimisation module, which reduces machining times by as much as 30-70% while also extending the life of cutting tools. VERICUT Force, has also received additional features and enhancements in 9.3. Alongside improvements to core features and functionality, deflection calculations have changed to account for the entire rotating tool assembly, where previous versions only accounted for solid round tools with holders. This change in deflection along with cutting tool data and information about stock material, improves part surface finish, ensures the part meets the appropriate dimensions, and extends cutter life.
Finally, CGTech will exhibit the latest versions of VERICUT Composites Programming (VCP) & Simulation (VCS) Software. The aerospace industry continues to push for lighter, faster, and more cost-effective parts and to support these goals, VCP now puts more power into user's hands. VCP and VCS both feature improvements to simulation graphics and ease of use such as adjusting the rendering of form edges, importing form surfaces, creating and saving custom views, and more. Improvements have also been made to algorithms such as form offset linking, advanced path generation, and advanced rosette systems.