CGTech to showcase VERICUT 9.2 at Advanced Engineering 2021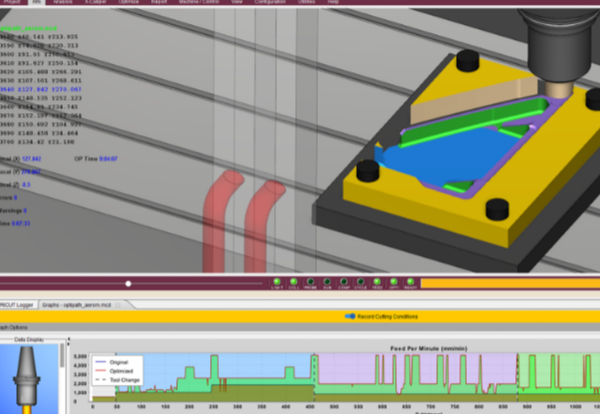 CGTECH will exhibit VERICUT 9.2 on stand H104 at the Advanced Engineering exhibition from 3rd – 4th November at the National Exhibition Centre (NEC), Birmingham. Advanced Engineering is the UK's leading annual advanced manufacturing and supply chain event. It brings together the latest technologies and supply chain partners, and reaches into the key sectors of aerospace, automotive, civil, rail, transport and more.
VERICUT is the industry standard for CNC machine simulation to detect incorrect tool path motions, collisions, bugs and other areas for improvement. The latest version, VERICUT 9.2,  increases productivity and sustainability with improvements to collision checking and overall performance, as well as enhanced support for "intelligent" cutting tools with cutting performance information and detailed tool reporting. Also added is a 3DLive interface to import GDML files, enabling users to quickly and easily create realistic digital machines and add other moving components (rotary tables, articulating heads, fixtures with moving clamps, etc.) for more realistic simulation.
VERICUT 9.2 also provides important advancements in optimization and monitoring machining processes. VERICUT Force is a physics-based NC program optimization module that can be used with  optimize cutting operations. Force makes changes to the program based on the specific stock material, cutting tool properties, and machining conditions encountered during simulation. Force optimized program feed rates maintain an ideal constant chip thickness as much as possible, while simultaneously limiting excessive cutting forces or spindle power requirements.
"With VERICUT 9.2's amazing improvements to optimization, cutting graphs and ability to import cutting tools with machining 'intelligence,' this newest version gives users more information and insights into machining processes," says Gavin Powell, CGTech UK Technical Director. "Users can view combinations of Cutting Conditions and Force Conditions, and compare the original versus optimized values in new Graphs and Tool Use windows. These windows can also be docked in VERICUT's desktop for constant monitoring of machining conditions in real time during simulations. This visibility allows them to spot potential flaws and inefficiencies in machining, so they can adjust their strategies or optimize them before running the programs on their NC machines."
The latest version of VERICUT brings more options for optimization. Force can set a target Chip Thickness and any combination of Force limits such as maximum force, maximum power, and maximum tool deflection. Users can also choose to "Learn From Graphs" to send optimization settings to cutting tools, or change optimization settings for corresponding cutters.
###
Note to Editors
About CGTech
CGTech's VERICUT® software is the standard for CNC simulation, verification, optimisation, analysis, and additive manufacturing. CGTech also offers programming and simulation software for composites automated fiber-placement, tape-laying, and drilling/fastening CNC machines. VERICUT software is used by companies of different sizes in all industries. Established in 1988, and headquartered in Irvine, California; CGTech has an extensive network of offices and resellers throughout the world.  For more information, visit the CGTech website at www.cgtech.co.uk, call +44 (0)1273 773538, or email info.uk@cgtech.com.