CGTech to showcase VERICUT 9.4 at Advanced Engineering 2023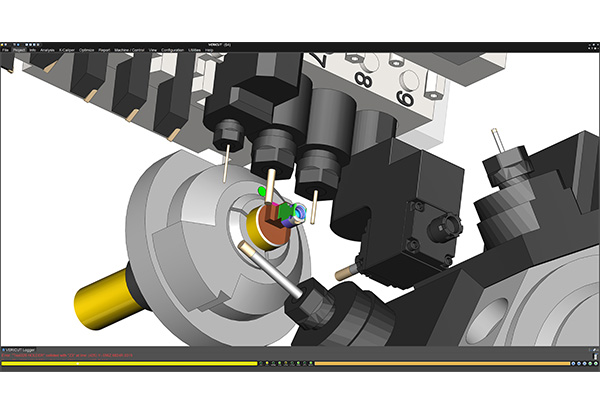 CGTECH will exhibit VERICUT 9.4 on stand N112 at the Advanced Engineering exhibition from 1st – 2nd November at the National Exhibition Centre (NEC), Birmingham. Advanced Engineering is the UK's largest annual gathering of engineering and manufacturing professionals. Bringing together 400+ exhibitors across all industries and sectors, the event provides an opportunity to source new suppliers, network, build connections and learn about new solutions and developments.
VERICUT is the world's leading CNC simulation software with over 7,000 companies in 60 countries simulating their machining and correcting errors in their NC programs before starting their real machines. The latest version, VERICUT 9.4, focuses on increased connectivity between the actual machine and the virtual simulation.
The new CNC Machine Monitoring module connects VERICUT directly to CNC machines and streams data to allow users to monitor what their machines are doing on the shop floor, live in real time. Users can see which NC program or subroutine is running, monitor machine motions and spindle activity, see if overrides have been applied to spindle or feedrates, identify when machining has been interrupted by Emergency stops or taken out of productive cycle mode, and much more, all within VERICUT.
CNC Precheck is a new standalone application that allows machinists to ensure that key aspects of the machine setup match what was verified in VERICUT. This final precheck before machining enables differences to be identified such as NC programs that are the wrong version or contain edits, missing and/or different work or tool offsets, so these can be investigated and resolved before running the machine.
Other enhancements include improvements to the free VERICUT Reviewer app, which allows everyone in the company, including Machinists, Engineers and Quality Assurance, to check NC programs before they run on the real CNC machine, without tying up a VERICUT license. Enhancements to optimisation give all VERICUT users an opportunity to quickly optimise their NC programs, without having to search for starting values when it comes to materials and cutting tool parameters. Users can also import cutting data with cutting tool assemblies, such as those from tool vendor sites and repositories like MachiningCloud, TDM, ZOLLER and more. Finally, VERICUT 9.4 offers improved support of Multi-ToolStations (MTS), a new ToolsUnited interface (access to tool and cutting data from over 40 tool manufacturers) and improved tool data (extension to include HSS and ceramic milling cutters as well as knurled milling cutters).