Delkia, Demonstrates New Virtual Reality Service to Sellafield SRP Project – Also Of Value to Defence Projects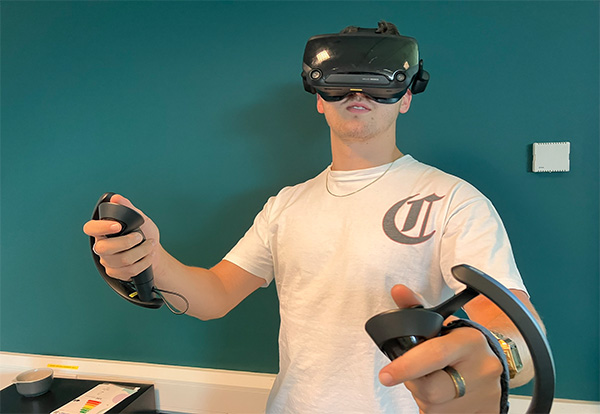 British engineering and technology firm Delkia, with offices in Preston and Cumbria, have developed a new virtual reality service allowing customers to interact with their products; saving time, money and improving safety. The first people to try out the system were Dave Brocklebank, Construction Manager, and Graham Young, Stakeholder Manager, from the Sellafield Product and Residue Store Retreatment Plant (SRP)* Project for which Delkia is producing a turnkey design, build and test package.
Graham Young Stakeholder Manager said "It is great to see how interactive Delkia have been in breaking ground with this system… The use of a VR system linked to the SRP model will open up opportunities to validate the operational and maintenance procedures ahead of commissioning. This will also enable better forward planning for any access arrangements or constraints during commissioning, highlight any problems before they arise improving safety and project delivery."
Using VR saves time in production by allowing potential issues to be identified before manufacture starts, improving operational safety and saving money by reducing the need for changes later in the design and manufacturing process. VR also saves time in installation as clients can see the unit in its intended location relative to its surroundings. This interaction with the real world via VR ensures human factors, how humans use machines, can be explored to further improve safety and operability.
"The control panels we make bring together many complex systems, the designs for which are difficult for non-specialists to visualise." said Gareth Powell, Technical and Engineering Manager at Delkia. "However, once we put these designs into a virtual world it is much easier to see how systems come together and any potential problems with the design. You can also see if the control unit will fit into the space allotted and if any existing structural features such as doors, for example, would be in the way.