Discover Manufacturing Connectivity in Practice with Bowers Group at MACH 2022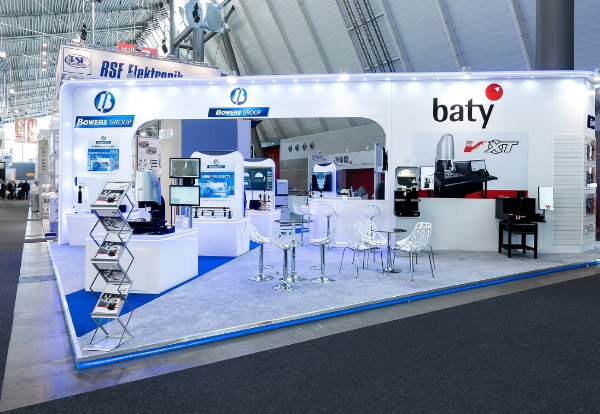 Bowers Group is attending MACH Exhibition from 4th April – 8th April, showcasing a variety of metrology solutions and offering live demonstrations to illustrate how effective data transfer between measurement equipment and applications can boost manufacturing productivity. With a strong focus on connective metrology, Bowers Group representatives will be willing and ready to show visitors exactly how Bluetooth enabled equipment and connectivity can improve efficiencies and reduce errors.
Attendees will have the opportunity to find out more about the range of precision measurement equipment available from Bowers Group, including a selection of products from Baty, Trimos, Sylvac, Gagemaker, and WYLER. From bore gauges, micrometres and indicators, to sophisticated vision systems, profile projectors and software, the Bowers Group stand will offer a comprehensive range of metrology solutions to suit all needs.
We are delighted to have the new Bowers DigiMic on display, our brand-new digital external micrometer. With its large screen and advanced, built-in Bluetooth connectivity, the DigiMic offers quick, simple, and highly accurate measurements that can be easily integrated into any Industry 4.0 / SPC system.
Also on display will be the new Baty R400 profile projector with 300mm x 150mm measuring range, which offers a range of improvements including positive adaptations to the lighting system and focal length that make it an ideal tool for a wide range of parts.  The FT2-E Touch Screen Display with the new high accuracy screen-mounted edge sensor features the latest Fusion Software which enables measurement data points to be taken automatically, removing operator influence and dramatically improving repeatability.
Ryan Kingswell, UK Sales Manager at Bowers Group said: "MACH is an important event for Bowers Group, and particularly special this year given the delay due to Covid. There are, of course, many guidelines and precautions in place to ensure this is a safe event, as well as an excellent opportunity for us to showcase the very latest technology in data transfer between measurement equipment and applications. Whether your business is taking its first steps into Industry 4.0, or you're further along your digital transformation journey, we're looking forward to showing visitors exactly how they can improve manufacturing processes with Bluetooth enabled equipment and connectivity."
As official metrology sponsors of the University of Wolverhampton Racing Team (UWR) and the University of Wolverhampton Engineering School, Bowers Group will also have the Mobile Metrology Centre on display in MACH's Education Zone, along with the University of Wolverhampton on stand 17-354. Apprentices, students and visitors will have the unique opportunity to witness first-hand the vast range of metrology equipment on board and learn more about how they are used.
"We are delighted to be able to give visitors to the Education Zone exclusive access to our Mobile Metrology Centre," continues Ryan. "It's a great opportunity for us to capture students' imagination and interest in metrology, and directly engage with the future talent of engineering and manufacturing. With the growing skills gap, it has never been more important for us to offer our experience and guidance regarding the tools that will inevitably become invaluable to them during their future careers."
Visit Bowers Group on stand 19-410 in the Measurement and Inspection Zone and come and see our Mobile Metrology Centre in the Education Zone on stand 17-354 at MACH Exhibition between 4th – 8th April, at the NEC in Birmingham.