Education and Business minds come together at Burnley College for revolutionary low carbon conference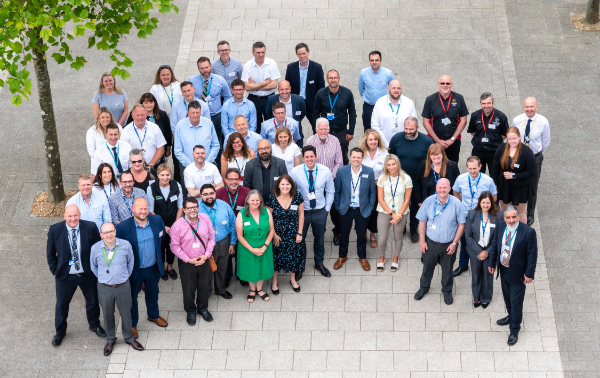 Dynamic education and business minds from across Lancashire shared their successes and ideas at the Skills for a Low Carbon Economy conference, hosted at Burnley College University Courses (BCUC).
The forum was organised by The Lancashire Colleges invited businesses who have been supported by the Government's Skills Development Fund (SDF) to explain how they have used these pioneering sessions to train their workforce and create their own pathway to Net Zero.
Paul Sharples, Business Development Manager at Burnley College said that the highly informative event demonstrates the desire that industries have to go green:
"As a College we're committed to helping preserve the world's resources for generations to come. We are proud to work with some forward-thinking employers and partners to make this happen. It was a great conference which explored ground-breaking ideas and showed the passion there is to reach our objectives regarding sustainability."
Dr Neil Bentley-Gockmann, CEO of Worldskills, gave a virtual keynote address about the importance of green skills and the need to keep working through the challenges to educate and equip young people with these vital skills. He said:
"Young people want to work for companies with green principles and we must keep building pathways into key sectors. By working together we can ensure the UK can access and develop the skills to reach net zero."
Among invited speakers to the conference was David Stanley, from ELE Advanced Technologies. He explained that 25 of their key staff from senior management, procurement, logistics and technical leads have all completed the Introduction to Net Zero training provided by Burnley College as part of the partnership led by The Lancashire Colleges under the ground-breaking SDF Pilot.
Among the green initiatives the company has introduced, electric vehicles are now used to travel between sites and a sustainable blueprint is being drawn up for their imminent premises move. He said:
"The SDF training has accelerated our understanding and capability to change alongside our ambition to drive the company to Net Zero. Engaging with the SDF support has provided ELE with a huge dividend.
"Our plans will sustain us for today and be efficient for tomorrow. We are a little business in East Lancashire and we want to help change the world."
These sentiments were echoed by John Marsden, SHEQ Advisor at Veka, who added they are already seeing a huge impact from the introduction of sustainable practices:
"We are proud to say that, in 2021, 98% of all our scrap on site is recycled, we saved 3,531 tonnes of CO2 emissions and 30% recycled content is in all of our packaging.
"We align our ethics and sustainability commitments to the inspiring framework of the UN's 17 Sustainable Development Goals and through our everyday actions, our products and the way in which we do business, we believe we can have a positive impact on helping to achieve eight of these goals."
Tim Maiden from Green Small Business reflected on the challenges in connecting organisations to the prospect of sustainability-focused change. He said:
"It's not just the skills gap that presents a hurdle. Time, money, expertise and tools are also huge factors. There's a lot of confusing noise about Net Zero and carbon footprints, but there are specific courses to equip workforces in environmental sustainability. Forums like this are important communication tools for businesses to engage with."
The afternoon session included round-table discussions between the visiting Colleges and a panel of industry experts who debated the impact of actioning a sustainability plan and how other businesses can become engaged in this vital process.
Also in attendance at the conference were Walter Carefoot & Sons, Baxi and Riscon, who joined educational establishments including Myerscough College, Lancaster and Morecambe College, the East Lancs and the North and West Lancashire Chamber of Commerce, Runshaw College, Preston College, Blackburn College and Nelson and Colne College.
Does your business have a vision to realise when it comes to embracing green technologies? Are you confused by terms like Net Zero, sustainability and green principles and want to know more? Burnley College's free training supports businesses to identify and plan for their own green futures. Go to burnley.ac.uk/employer/net-zero-initiative-2/ for more information.