European Space Agency and Dassault Systèmes Sign Letter of Intent to Support Space Startups and Entrepreneurship across Europe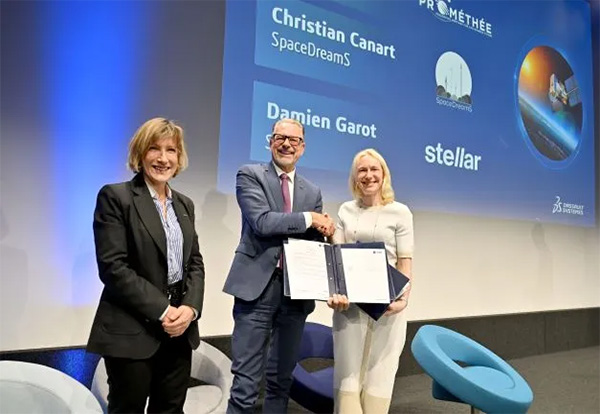 • Leading space agency in Europe and science-based technology company partner to nurture and accelerate the development of new space startups and innovations
• Letter of intent is looking to extend an existing collaboration between ESA Business Incubation Center (ESA BIC) Bavaria and Dassault Systèmes in Germany to ESA BICs across Europe
• European startups to benefit from Dassault Systèmes' 3DEXPERIENCE platform, 3DEXPERIENCE Lab mentoring, and networking support
Dassault Systèmes (Euronext Paris: FR0014003TT8, DSY.PA) and the European Space Agency today "March 8th" announced the signature of a letter of intent to support the European community for innovation in the "new space" sector – commercialization of space driven by private companies. The announcement was made today during the "New Space Networking" event held at Dassault Systèmes' headquarters in France to kick off Paris Space Week.
The two organizations will collaborate to nurture and accelerate new space startups within ESA's Business Incubation Centers network in Europe by providing them with technology, mentoring and networking support to develop their innovations. The agreement is looking to build upon an existing partnership established in Germany in 2022 between ESA BIC Bavaria and Dassault Systèmes, with a view to extend it to other ESA BICs.
Dassault Systèmes and ESA recognize the importance of digitalization in the successful development of innovations for space. In recent years, digital technology has enabled disruptive startups to introduce new concepts for satellites, space travel, exploration and other aerospace systems that have transformed traditional industry dynamics.
Dassault Systèmes – through its 3DEXPERIENCE Lab open innovation laboratory – and ESA will drive new levels of innovation in the sector by providing startups within the ESA BIC network with access to Dassault Systèmes' 3DEXPERIENCE platform on the cloud. The platform offers new ways to conceptualize, design, manufacture, test, certify and sustain new space vehicles. Startups will benefit from industry-leading applications to engineer their projects in a 3D virtual environment, and streamline collaboration within teams and with a network of mentors worldwide.
"The ESA BIC network has supported over 1,300 startups and in the Directorate for Commercialisation, Industry and Procurement it is our objective to further support these companies in their journey of scaling-up through building bridges with corporate partners, investors and internally with other ESA Programs. In the agency we are also learning from them in adopting a new space approach to shape the space ecosystem of tomorrow," said Geraldine Naja, Director for Commercialisation, Industry and Procurement, ESA.
"We are at the forefront of a huge wave of innovation in space. Ten years from now, we will have more than 10 times the number of satellites orbiting the earth. As the democratization of space opens up new possibilities in these areas, this race to innovate is thriving across new space startups in Europe. Our collaboration with ESA will enable these startups to accelerate the design, manufacturing, testing and operation of breakthrough technologies driving a new global space economy," said David Ziegler, Vice President Aerospace & Defense Industry, Dassault Systèmes.
ESA, the leading space agency in Europe, has a network of 29 ESA Business Incubator Centers across Europe to foster the development of space-enabled ideas, startups and innovations. For 40 years, Dassault Systèmes has enabled aerospace companies to create new industry sectors and transform existing ones with trailblazing firsts – from the first aircraft entirely designed and developed digitally to advances in eVTOLs, solar-powered flight, and closed-loop habitats that may eventually support life on other planets.