Germany renews A400M In-Service Support contract with Airbus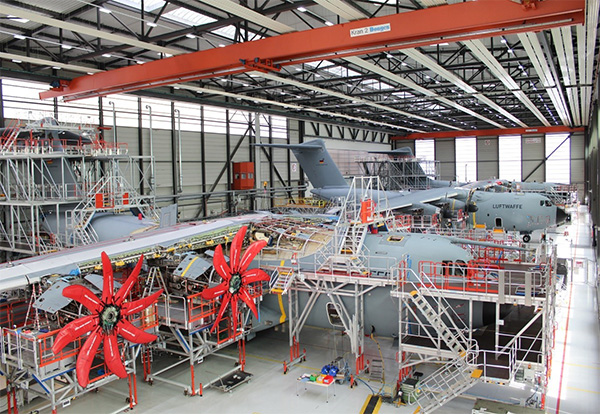 • Contract extension covers 7.5 years
• Airbus to build new A400M maintenance facility in Wunstorf, to open in 2027
#DefenceMatters #A400M #Luftwaffe #Germany #Bundeswehr
Munich, 3 July 2023 – The Federal Office of Bundeswehr Equipment, Information Technology and In-Service Support (BAAINBw) in Koblenz, Germany has awarded Airbus with a contract renewal for the Luftwaffe's A400M In-Service Support. The contract has a duration of 7.5 years and serves as an extension of the A400M In-Service Support contract that had been in place since December 2014.
"This contract extension shows a long-term commitment of the German government to the A400M. Together with the customer, we have made big strides in recent years to improve availability as well as the operational capabilities of the A400M, which has become an indispensable asset in Germany's air force inventory", said Jean-Brice Dumont, Head of Military Air Systems of Airbus Defence and Space. "This contract allows us to deepen our fruitful cooperation which, I believe, can serve as a role model of how industry and customers can work together successfully."
The industrial technical support of the German Air Force A400M fleet covers a wide range of services provided by the Airbus Support Centre in Wunstorf Air Base and the central Centres of Competence in Getafe, Spain.
Airbus will ensure full coverage of scheduled Maintenance, Repair and Overhaul (MRO) services from its main MRO base in Manching, near Munich as well as at Wunstorf Air Base, near Hannover, Germany and at Hannover Airport.
The contract also foresees the establishment of a new A400M maintenance facility in direct proximity to Wunstorf Air Base. Commencing operations in 2027, the facility will perform MRO services and also host the Airbus A400M Support Centre with a total workforce of approximately 300 who will work hand in glove with suppliers and customer representatives. Construction work will commence with immediate effect.
Germany is the biggest customer of the A400M. Currently, the Luftwaffe operates 40 A400M out of a total of 53 aircraft on order. The entire fleet operates out of Wunstorf Air Base which is home to the Air Transport Wing 62 (Lufttransportgeschwader 62).