Get Connected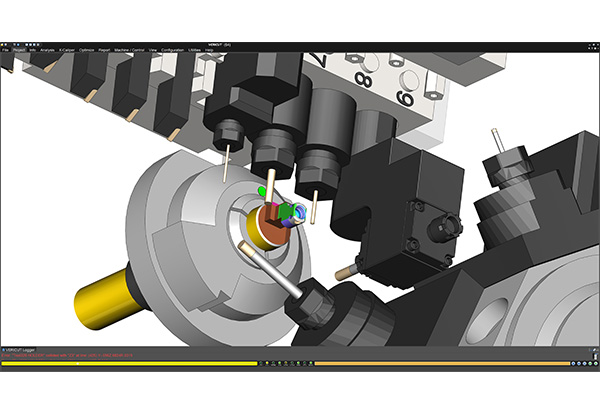 NC simulation for more added value in machining: CGTech is launching the new version VERICUT 9.4 at EMO 2023.
CGTech, developer of the market-leading CNC machine simulation software VERICUT, is launching the new VERICUT Version 9.4 just in time for EMO 2023 in Hanover (Hall 9/Stand B24). Under the motto "Get connected", CGTech offers outstanding features & functions with the current version, which offer immediate added value in the day-to-day business of metal-cutting production.
Number 1 priority: Usability
"Whether it's milling, turning, mill-turning or any other type of CNC machining, VERICUT is the industry standard for CNC machine simulation, NC program optimisation and verification," said Daniel Magnusson, CGTech Vice President of Commercial Business. The fact that CGTech's solutions are deeply rooted in the history of the Aerospace industry and are used today in all industries, from Oil and Gas and Medical Technology to Tool and Mould making and Formula 1, goes back to a core focus: to offer the highest level of usability to all users, in all industries across the globe.
Switch to live manufacturing
The new CNC Machine Monitoring module focuses on increasing connectivity across the manufacturing workflow, enabling organisations to do more with the resources they already have. Via VERICUT, the real events on the shop floor can be streamed live in real time to monitor what the machines in the workshop are actually doing. In this way, it is possible to check which NC program or subprogram is currently running, how the movements of the machine axes and spindle activity are currently present, or which tool is loaded.
With the new CNC Precheck – a standalone app – machine operators can ensure that key points of the machine setup correspond to the data checked in VERICUT, without tying up a VERICUT license. Any differences, which may lead to problems, can then be investigates and corrected before any actual machining takes place. A typical application is checking whether the parameters of the real machine match the parameters of the virtual VERICUT machine.
Smart, lean, productive The new improved VERICUT Reviewer is very practical as everyone in the company, including Machinists, Engineers, Quality Assurance, can check NC programs before they run on the real CNC machine, and without tying up a VERICUT license. All that is required is the free downloadable Reviewer app. All VERICUT users, even those without the Force module, can benefit from the enhancements to optimisation in VERICUT 9.4. Streamlined setup and the settings provided by VERICUT Tool Data gives users an opportunity to quickly optimise their NC programs, without having to search for starting values when it comes to materials and cutting tool parameters. Users can also import cutting data with cutting tool assemblies, such as those from tool vendor sites and repositories like MachiningCloud, TDM, ZOLLER and more. Finally, VERICUT 9.4 offers improved support of Multi-ToolStations (MTS), a new ToolsUnited interface (access to tool and cutting data from over 40 tool manufacturers) and improved tool data (extension to include HSS and ceramic milling cutters as well as knurled milling cutters).
CGTech – EMO 2023 – Hall 9/Stand