Innovation, collaboration, networking and sustainability celebrated at Advanced Engineering UK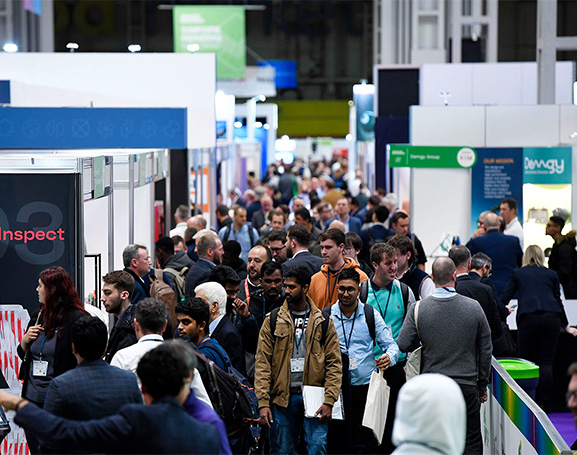 The UK's largest annual gathering of engineering and manufacturing professionals, Advanced Engineering, returned to the NEC, Birmingham on November 2 and 3 for its 13th edition. Here, companies at the forefront of the UK's engineering and manufacturing industry showcased their most cutting edge technology, and experts united to discover the latest innovations. Attendees were also treated to talks from leading industry figures, including representatives from Siemens, Ford, Jaguar Land Rover, Make UK, Rolls-Royce and Airbus.
409 exhibitors attended Advanced Engineering this year, with 85 per cent rebooking for next year. Once again, the show was co-located with Lab Innovations, which also achieved record breaking rebooking rates.
This year, over 8,800 people attended Advanced Engineering — 27 per cent more than in 2021. This included representatives from Aston Martin, BAE Systems, Boeing, McLaren, Microsoft, Nissan and Toyota. Daniel Chambers, Lead Quality Engineer at Lotus Cars commented, "The show allowed me to make connections with people I would have never otherwise spoken to. I found lots of solutions to problems from networking and discussing the industry with other attendees."
Jeremy Cowle, Business Development and UK Sales Manager, Testia, An Airbus Company said, "Out of the five shows we have exhibited at this year, this was by far the best. With varied talks and a great layout there was more foot traffic and a far more diverse range of enquiries. Great show — Testia is booked for next year already."
Advanced Engineering's dedicated innovation areas proved popular again this year, with the spaces across the show floor given to the University of Manchester, two Formula Student teams, Crover, Bcomp, Plastron and Attentional Machines. Here, visitors got to see the latest innovations in graphene, electric vehicles, composites, drone technology, spacecraft propulsion and robotics, from companies right at the forefront of their respective fields.
Across the two days, visitors had access to over 50 hours of free CPD accredited learning, courtesy of the four forums across the show floor. These were sponsored by Hexagon, Aerospace Manufacturing, The University of Strathclyde, DER Industrialisation Centres, Manufacturing and Engineering Magazine, GRP Solutions, Cristex, HP, Ripley Solutions and RS Components.
This year, the show launched its official app, which helped the event reduce its impact on the environment as a result of reduced paper show guides. With so many groundbreaking talks and innovative product launches across the show floor, many relied on the app to pre-arrange meetings, ensuring that everyone had a successful and productive visit without missing out on what was on offer. Further meetings took place as part of the ADS and SMMT Meet the Buyer programme, which matched buyers from leading aerospace and automotive manufacturers with suppliers and partners from the wider industry. This was the inaugural year for Meet the Buyer and it was a huge success, with 125 meetings arranged by ADS and 139 arranged by the SMMT. Buyers included Nissan, BMW, Rolls-Royce, Airbus and QinetiQ.
The Enabling Innovation competition was once again a big hit, with nine start-ups selected to present their innovation in front of an audience and judging panel on day two of the show. Crowds gathered to see the chosen companies showcase their achievements, before the judging panel, comprising of competition sponsor, SETSquared and representatives from InnovationDB and Advanced Engineering selected aerogel manufacturing pioneer, Dragonfly Insulation as this year's winner. The innovative start-up have won a stand at next year's exhibition for free, which will act as a stepping stone for the business to achieve further success by meeting future customers. SMDR and Lineat Composites were awarded second and third place respectively.
Jeremy Whittingham, consultant for science, engineering and technology organisations, and part of this year's judging panel said, "Dragonfly Insulation's presentation was very much geared towards investors, who might have been in the audience, which we thought was a very clever move. It talked specifically about the benefit of using its specific materials and brought out the uniqueness of the product extremely well."
Despite being a year away, the high level of rebooking means that there are already limited stands available for Advanced Engineering 2023. It's already shaping up to be an excellent event, full of innovation.