Lancashire Advanced Engineering and Manufacturing (AEM) Watchtower project takes off with official launch !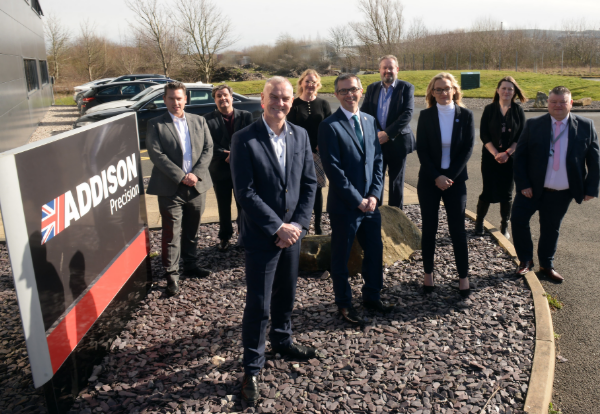 North West Aerospace Alliance are thrilled to announce it will be a key delivery partner, alongside Aerospace Consulting and Community & Business Partners to deliver the Lancashire Advanced Engineering and Manufacturing (AEM) Watchtower project over the next two years, supporting economic development and growth in the aerospace and advanced engineering industry across Lancashire.
On Friday 4th March leading figures from the NWAA and advanced engineering industry have met to mark the launch of a £1million initiative to support the sector in Lancashire.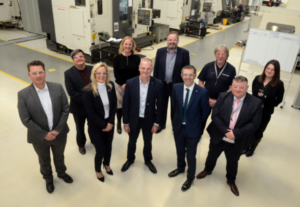 Image 1
The Lancashire Advanced Engineering and Manufacturing (AEM) Watchtower project will use local industry knowledge to develop a dashboard of the health of strategically important aerospace suppliers as they stabilise, recover and grow during the Covid-19 pandemic. It will identify organisations that need and will most benefit from tailored, coordinated business support and will help to engage with the right support at the right phase of the crisis.
The funding is part of the Lancashire County Council's new £12.8million Lancashire Economic Recovery and Growth Fund, which is targeted at tackling some of the economic impacts of Covid-19 and stimulating growth.
Representatives from the county council, North West Aerospace Alliance, Aerospace Consulting and Community Business Partners recently visited the Addison Precision facility in Thornton-Cleveleys to mark the official launch of the Lancashire AEM Watchtower project.
Addison Precision has worked across numerous sectors, including the aerospace, defence and automotive industries for the last 40 years, and has continued to adapt and diversify during this time and during the pandemic.
This diversification is even more important now and something Addison Precision recognise it must continue to do moving forward, and the Lancashire AEM Watchtower project will support them to do that.
Mark Verdon, Managing Director of Addison Precision said: "The Lancashire AEM Watchtower project is an innovative initiative that we are very pleased to support and is looking to assist us to access growth opportunities and prosper in the months and years ahead.
"The past two years have been extremely challenging to the Aerospace sector, and we have had to adapt and diversify our operations further to accommodate these challenges. This has led us in some interesting directions and processes as we look to the future and this is something we have to continue to explore.
"I believe The Watchtower project looks like it will provide some much welcome support for us in this endeavour."
The two-year programme will include five elements –
1. An intelligence function to identify and protect Lancashire's key aerospace assets and businesses.
2. A talent retention service to help people who have lost skilled jobs in aerospace to find new work.
3. Support for businesses to find new contracts which fit their manufacturing capabilities nationally and internationally.
4. Support for businesses to innovate, for example, developing new products or new ways of working.
5. A campaign to reinforce that Lancashire remains a perfect location for aerospace and advanced manufacturing businesses seeking somewhere to grow.
County Councillor Aidy Riggott, cabinet member for economic development, and growth said: "We are pleased to support this vital industry in our county which employs around 13,000 people in Lancashire and has been hard hit by the economic impact of Covid-19.
"There has been a temporary collapse in demand for AEM products as a result of lockdowns, which has impacted on the aerospace, automotive and power markets and supply chains. In turn, significant numbers of high value jobs have been furloughed and potentially lost, impacting on our skills base and wealth generating capacity.
"The Lancashire AEM Watchtower project is amongst the first to be approved for funding from the Lancashire Economic Recovery and Growth Fund, which we have launched to take urgent action to help the sectors and occupations in our county most exposed.
"We want to support AEM businesses to be competitive, innovative and financially sound to ensure they can successfully recover from the pandemic and thrive.
"The county council's financial contribution will support 40 aerospace supply chain SMEs, help safeguard and create 200 jobs, and bring in £30m worth of revenue into the county."
Prof Andrew Schofield, Chairman of Northwest Aerospace Alliance said "This is a fantastic opportunity to contribute to making Lancashire the most attractive location in the UK. Businesses, academia and local government will have the opportunity to work together to provide the best location for AEM investment that generates high value employment and delivers sustainable growth contributing to net zero targets."
Dr David Bailey, CEO of Aerospace Consulting said: "Lancashire is at the heart of the North West of England with the largest advanced engineering and manufacturing capability in the UK. This ambitious new Lancashire AEM Watchtower programme will look out for those companies in the region which need help and support with diversification, innovation and skills to recover and grow their businesses."
Jaydee Davis Operations Director at Community & Business Partners, said: "We have a talented and highly skilled workforce in Lancashire and this investment focuses on both the people and businesses. This programme will allow us to support with retention, redundancies, and recruitment, ensuring we keep our talent within the sector and county, following the aftermath of Covid-19."
Lancashire Business wishing to participate in the Watchtower Programme please contact:
Paula Gill
Chief Executive
North West Aerospace Alliance
paula.gill@aerospace.co.uk
or
Dr David Bailey
Director
Aerospace Consulting
david.bailey@aerospaceconsulting.co.uk
********************************************
Image 1 Note:
Front row
Marcus Addison, Chief Executive of Addison; Jaydee Davis, Operations Director at Community & Business Partners; Prof Andy Schofield, Director of Programme Technology Integration at BAE Systems and Chair of the North West Aerospace Alliance (NWAA); CC Aidy Riggott, cabinet member for economic development, and growth for Lancashire County Council; Mark Verdon, Managing Director, Addison Precision
Back row, L-R
Andy Walker, Head of Business Growth, Economic Development Service, Lancashire County Council; Sophie Addison, Digital Marketing Manager, Addison Group; Dr. David Bailey, Aerospace Consulting; Ray Lynch, Addison; Claire Lambert, Marketing & Events Manager, NWAA