Leeds Based Bearings Company Celebrate 10 Year Anniversary Crowned with the Queen's Award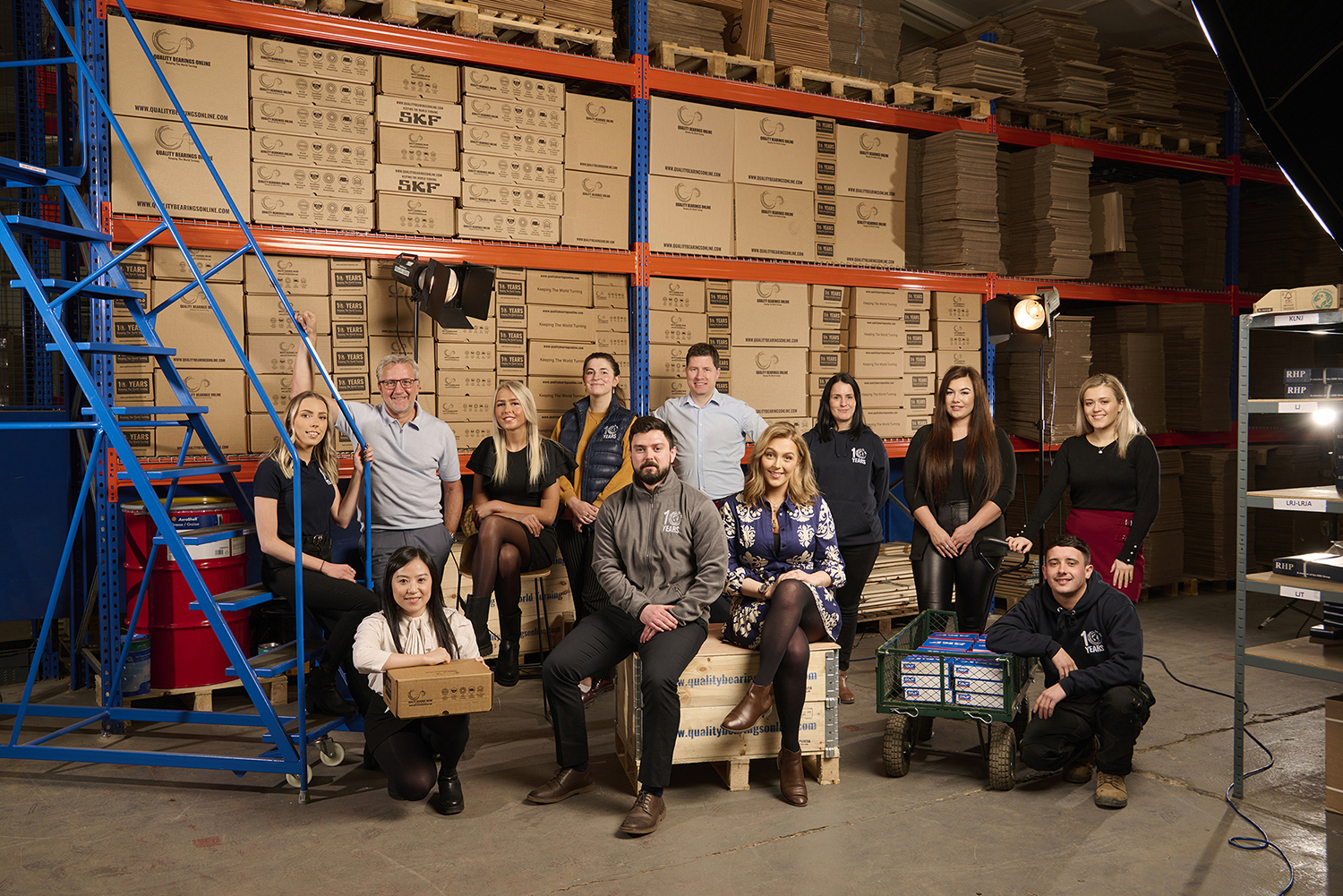 Multi-award-winning Leeds based business, Quality Bearings Online, have a double celebration by receiving the Queen's Award for International Trade and marking 10 years of continuous growth.
Recognised for British Excellence, The Queen's Award for Enterprise is awarded to those businesses with outstanding achievements, growth, and success in international trade. Success like this only comes to a select few businesses each year, and Quality Bearings Online are one of 226 organisations to be recognised with a prestigious Queen's Award for Enterprise this year.
Founded in 2012 by Co-Directors Simon Riley and Denny Maude, Quality Bearings Online (QBOL) are a multi-award-winning E-Commerce distribution company that supplies ball bearings, engineering spares and technologically advanced lubricants to customers in over 110 countries worldwide.
Denny Maude, CEO at Quality Bearings Online, said, "We are greatly honoured and proud to be recognised by the Queen's Enterprise for International Trade. Amongst all the cherished awards we have won over the years for Exporting, Business, and E-commerce growth, winning the Queen's Award has undoubtably been the most rewarding, one the team here at QBOL could not imagine achieving."
In 2015, Quality Bearings Online began their journey to exporting by attending the Passport to Export programme delivered by the Department of International Trade (DIT). The Leeds City Region Enterprise and Partnership (LEP) have greatly provided the business with many years of support, helping invest in digital growth, recruiting the right talent and company strategy.
Quality Bearings Online are constantly looking for ways to break barriers by encouraging women in engineering and employing new talent from Graduates and Apprenticeship schemes. Over 67% of the workforce are women, with an average age of 29. The young, dynamic, and talented team continue to deliver record-breaking results as over the past year, Quality Bearings Online have seen a 76% growth.
Business Development Director, Simon Riley, commented, "As we progress further into 2022, we are heavily investing in our strategy to help bring the vision of our company forward while focusing on delivering our mission to customers, which is to be the number one choice for premium bearings and auxiliary engineering products, offering the fastest and most reliable service worldwide. With this in mind, we are expanding to a purpose build warehouse to cater for our growing team and facilitate our business development."
Congratulations to all the other businesses and organisations who have won a Queen's Award this year and may your business continue to prosper.
Follow Quality Bearings Online's journey on: LinkedIn: @QualityBearingsOnline | Twitter: @QualityBearings | Facebook: @qualitybearings
About the Company
Quality Bearings Online are a multi-award-winning E-Commerce distribution company supply ball bearings, engineering spares and technologically advanced lubricants to customers over 110 countries world-wide and year on year have experience incredible financial year growth. Quality Bearings Online provide excellent customer service and rapid delivery anywhere in the world. To learn more, visit www.qualitybearingsonline.com
Contact Details
Simon Riley
Business Development Manager
0113 323 7793
Facts
https://www.gov.uk/government/news/best-of-british-business-celebrated-as-queens-awards-for-enterprise-winners-revealed