Major milestone achieved at US facility of Velocity Composites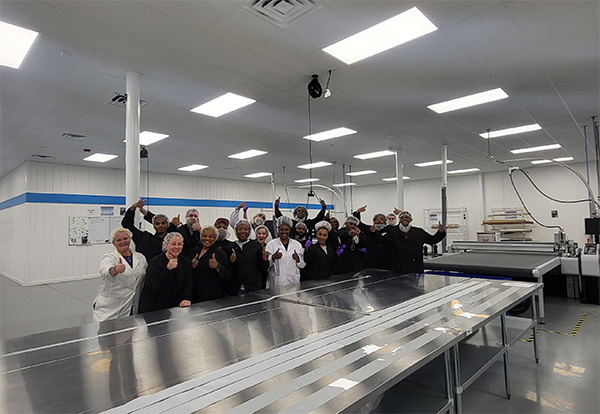 Velocity Composites, the leading supplier of composite material kits to aerospace and other high-performance manufacturers, has completed the successful manufacture of the first composite production kits from its new advanced manufacturing facility in Alabama, US.
The major development at the site supports the signing of a five-year Work Package Agreement in December last year with GKN Aerospace in the US, expected to be worth in excess of US$100 million in revenue over five years.
The milestone is the culmination of an intensive period of training, audits, and approvals, during which the site successfully achieved approval of the AS9100, Rev. D quality management system in November last year.
This was followed by several prime customer audits through December 2022 and early January 2023 and concluded in full customer audit approval and authority to proceed with First Article manufacture. This critical step is the ultimate verification by the customer that the site fit out and infrastructure, the trained processes and procedures, and the quality and transfer plans presented by Velocity exceed the required standard.
The detailed First Article plan that has been agreed with the customer can now be implemented, where one of every kit can be manufactured, delivered and verified prior to sustained volume production. This will be on a programme-by-programme basis leading to the phased transfer of all kits to Velocity supply, with the final programme scheduled to be completed within this financial year and the full rate of production starting either at or before the next financial year.
In the future, the site will become a launch hub for other customer contracts, and high-level business development activities are already underway with several potential large customers.
Jon Bridges, Chief Executive of Velocity Composites, said: "This is a major milestone for Velocity Composites as we expand into North America. The whole Velocity team, both in the US and UK, have worked incredibly hard to deliver a fully operational site, a well-trained team, and a plan ready to start delivering flying products to our launch customer.
"The site can move forward into production ramp-up with continued support from the UK team and close collaboration with our customer to ensure a smooth transfer of the entire project.
"For myself and the Velocity team, the customer and industry approvals of this new showcase facility is further endorsement that our business model, processes and technology are world class in our industry, and our targeted business development activities are further enhanced by having a capable advanced manufacturing site in North America with significant capacity to grow."