MANAGEMENT BUYOUT AT KEIGHLEY LABORATORIES LIMITED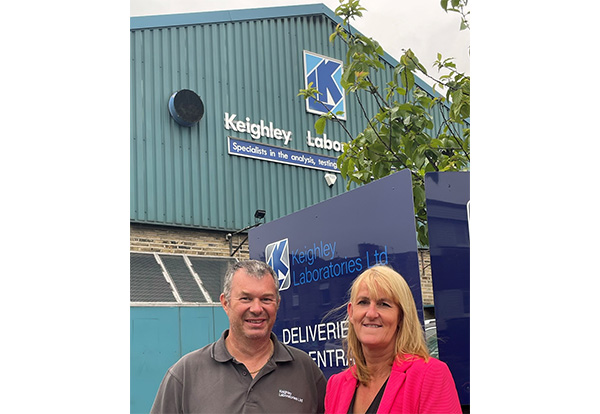 The executive management team at Keighley Laboratories Limited has completed its acquisition of the company from the existing shareholders.
Managed by Debbie and Matthew Mellor, the management buyout (MBO) means that the husband and wife team takes ownership of the business outright.
Founded in 1920, Keighley Laboratories provides advanced metallurgy testing, consultancy and chemical analytical solutions to sectors including aerospace, marine, defence, nuclear, energy and rail. The company provides services to local, national and global markets, and is one of the longest standing independent UKAS ISO 17025 laboratories.
The MBO was led by the company's existing managing director Debbie Mellor and technical services director Matthew Mellor and was supported by a new debt facility from NatWest, facilitated by Sanjoy Kundu, Senior Relationship Manager.
Commenting on the company's growth plans, Matthew Mellor, said: "We believe that the future is extremely positive for the company and we look forward to developing further the range of the services we offer. We have in place a growth strategy for the business and several strategic partnerships, which will help progress the business and bring greater opportunities.
"We have recently gained Boeing D1-4426 status, marking us a quality supplier and has been a significant achievement in our strategic plan of maintaining and extending the scope of aerospace approvals".
Debbie has served on the Bradford Chamber of Commerce Leadership Group for the last nine years, and has recently joined the West Yorkshire Manufacturing Advisory Board, a manufacturing task force initiative set up by the Mayor of West Yorkshire, Tracy Brabin.
Keighley Labs is also a long time supporter of Bradford Manufacturing Weeks, and member of the Bradford and Airedale Manufacturing Alliance, with Debbie being vice-chair of the alliance.
Commenting on the MBO, Debbie Mellor, said: "Myself and Matthew are passionate about the company. We have both worked in the business for over 30 years. Being managing director since 2007, this was the natural progression that was facilitated by the existing shareholders exiting the business.
"We are keen to drive the business forward – providing quality technical metallurgical services from our team of experts whilst also ensuring continuity of service throughout the MBO"
A team from law firm Gordons, led by corporate partner Duncan Firman and commercial property partner Nick Chamberlain, advised on the MBO, alongside Gavin Lamb from the Bradford office of accountancy firm Azets.
Duncan Firman, said: "Keighley Laboratories is a long-standing client of Gordons. We are delighted to have been able to work with Debbie and the management team to secure completion of the transaction as part of the next phase of the company's journey."