MSP brings automation to Advanced Composite Manufacturer, Pentaxia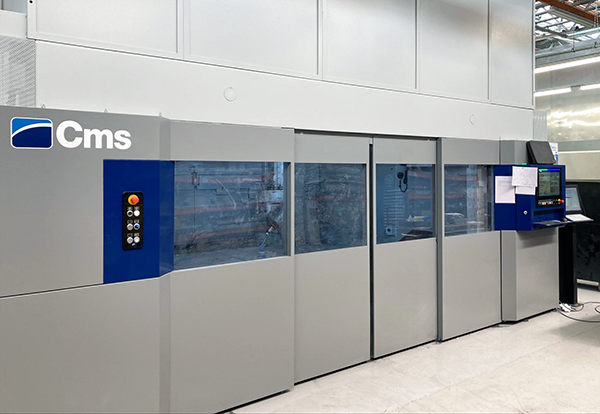 Leading composite tooling and component manufacturer, Pentaxia, has enhanced its capabilities by investing in automated technology from 5-axis CNC metrology specialist, MSP.
Following an increase in demand for more complex composite components that had longer manual setup processes and more off-machine inspection requirements than their previous work, Pentaxia recognised now was the time to introduce a fully-automated and controlled part production process. To achieve this goal, Pentaxia invested in MSP's technology and also in new CNC machinery in the form of a CMS Ares 5-axis machine with a Fanuc 31i control.
Pentaxia's investment in MSP's PerfectPart suite of products, namely AutoClock, NC-Checker and NC-PartLocator, will enable the composite company to fully automate their entire machining process from beginning to end, significantly enhancing efficiency and the right-first-time quality of their parts.
MSP's three steps to automation begins with AutoClock, a hardware device that automatically sets up the probe ready for calibration. Their NC-Checker software then automatically calibrates the probe in 5-axis and assesses the CNC machine's capability of making parts to tolerance. Their NC-PartLocator software is the final stage of the automation process and comprises of three parts. First, it verifies the part's condition of supply is good, it then automatically calculates the part alignment so it is accurate enough to suit the complexity of the components so they will be machined to tolerance. The final stage of the software gives the ability to perform on-machine inspection, reducing reliance on the CMM machines to quality check the components thus making CMM backlogs a thing of the past.
Pentaxia's new CMS machine was commissioned in April, with MSP's PerfectPart solution being fully installed last month.
MSP Technical Account Manager, Aidan Wigham, comments: "Automation is vital for the type of composite components Pentaxia machine and manufacture. Composites are prone to distortion which can make it difficult to finish machine or position holes accurately meaning manual setup just isn't good enough. We look forward to supporting Pentaxia in their journey to realise the possibilities automation can bring to composite manufacture."
Pentaxia is an end-to-end solution provider undertaking all aspects of supply within the composites industry from tooling design, manufacturing and component production right through to surface finishing.
Adam Norris, Production Director adds: "Introducing MSP's automated technology into our production facility is part of our ongoing commitment to achieving quality and efficiency gains in our composite machining process. We believe this heightened level of automation will help us win complex tenders as the schedules and quality of components can actually be guaranteed before we start machining. I also see wider benefits of improved energy efficiency and sustainability, which is crucial in the current market".
MSP also work end to end providing automation and process accuracy from CAD design, probe and machine setup, part alignment right through to part inspection. MSP has delivered solutions globally for composite manufacturers machining parts in many sectors such as motorsport, aerospace and marine.
To learn more about Pentaxia's machining capabilities for the composites sector, visit: https://pentaxia.com/
To learn more about MSP's 5-axis automation for CNC machines or probing systems, visit: https://mspltd.com/
Editors Notes: MSP specialise in world class precision software and part manufacturing solutions, revolutionising the way the advanced manufacturing industry make and measure parts around the world.  Our expertise is recognised by industry leaders worldwide – with customers benefiting from increased productivity, huge reductions in costs and significant time savings. MSP is based in Alnwick, Northumberland and is an associate company of world leading engineering and scientific technology company, Renishaw PLC.