MSP to host 'Automated CNC Machining' event at Biesse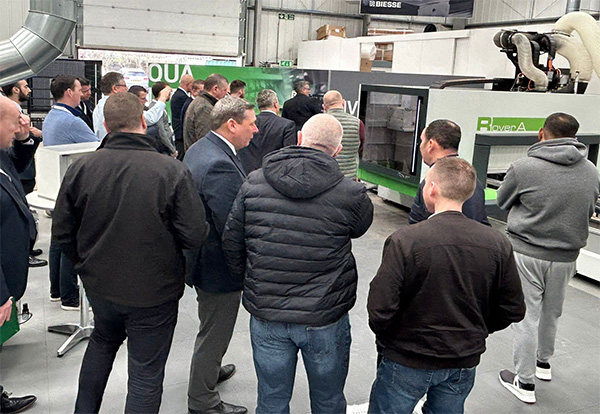 Metrology manufacturing specialist, MSP, has announced it will host a special technical event on 5th July to educate CNC machining companies about 'Automated CNC Machining'.
The event hosted at the Biesse Group UK facility in Daventry boasts a full schedule with a range of on-machine demonstrations showcasing automation tools which challenge manual production processes.
Attendees can learn how to create a lean, efficient supply chain using existing manufacturing capabilities and will hopefully feel inspired to think outside the box when it comes to CNC machining processes. Existing MSP customers will be able to see new product features in action on the machine tool for the very first time.
MSP will also be holding one to one workshops throughout the day for attendees to get expert advice from MSP's engineers about their parts, processes or to discuss specific CNC machining related questions.
Tony Brown, MSP Commercial Director, explains: "We first held an event like this in 2019 and our customers said it was a fantastic opportunity to learn about the direction our products were going in and to refresh their knowledge about our product's capabilities. This time, we are also welcoming people interested in MSP and our products to join us. There will be plenty of on-machine demonstrations throughout the day to show how the MSP PerfectPart product suite can enhance manufacturers current CNC machining processes to drive a smarter, more efficient operation".
Biesse Group UK, who design and manufacture a comprehensive range of advanced materials CNC machinery with over 50 years' experience in material processing, are kindly hosting the event and the day will include a tour of their facility in Daventry.
In their respective fields of metrology and machinery, MSP and Biesse both strive to achieve ultimate precision for CNC machined materials and parts through the simplification and automation of manufacturing processes. This event promises to be a fantastic opportunity to highlight this to the industry.
Phil Breeze, Commercial Manager – Advanced Materials, comments: "We are really looking forward to welcoming MSP and their customers to Biesse UK and demonstrating the integration of their solutions on our 5-axis gantry CNC. We see real benefit in combining our technologies to simplify and automate high precision manufacturing."
Registration for the event is now open. This can be done through MSP's website here: https://mspltd.com/events/automated-cnc-machining-showcase.
If you would like to attend but can't make the date, MSP is filming the demonstrations on the day and these videos can be requested by emailing contactus@mspltd.com.
MSP is also providing demonstrations at Biesse UK's own 'Advanced Materials' Open Day on 27th June. This event promises to showcase a range of high-quality processing technologies that increase quality and efficiency for the industry. More information about this event can be found here: https://www.biesse.com/uk/advanced-materials/events/advanced-materials-days-june-23