New recruits add strength to Ceratizit's customer support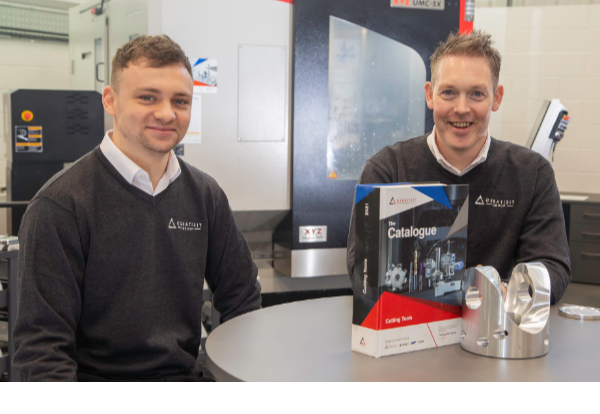 The appointment of Nev Frisby and Drew Pettifar will further enhance the market-leading customer service on offer from Ceratizit UK & Ireland.
Customer service and support has been key to Ceratizit UK & Ireland's success throughout its history and as the UK Manufacturing sector continues its recovery from the pandemic, this support is ever more vital. With this in mind, Ceratizit UK & Ireland has plans for significant growth in its technical Sales and Application Sales teams in 2022, commencing with these first two appointments.
Brackley-based Neville (Nev) Frisby joins the company as a Technical Sales engineer working across an area covering in part the northern home counties including 'F1 Valley'. Nev brings with him extensive machining knowledge, especially with Ceratizit tooling, both from a machine shop management and machine operator perspective. Having spent many years working in production management roles Nev decided to make a change of direction and returned to his roots setting and operating machines in 2015, manufacturing parts for a wide range of customers including Formula One teams and supercar manufacturers. "I needed to recharge my batteries and make use of the expertise that I had in a different way," says Nev. "After almost seven years it was time for another change and having seen the opportunity at Ceratizit come up on social media, and with my knowledge of the company and its products the transition should be relatively straightforward. It almost feels like coming back to a family I know them so well and I can't wait to get in front of customers.
Drew Pettifar is joining Ceratizit in the role of Applications Sales Engineer where he will bring his wide-ranging knowledge of production engineering, across sectors such as defence, motorsport and prototype manufacturing. After completing his apprenticeship Drew developed his skills setting and operating machines, before moving into more management-based roles in production engineering environments. In his new role Drew will work with the technical sales team to develop machining solutions for customers as well as providing day-to-day project support for a number of key accounts across the east of England with all of his customers being within two hours of his home in Buckinghamshire. "As someone who enjoys finding solutions to engineering questions, I am excited by the challenge of this new role," says Drew. "In my previous jobs I had to be customer facing the experience that gave me in relationship building, combined with my technical background should make the transition to applications support a fairly easy journey."
Speaking of these and future appointments Ceratizit UK & Ireland's Managing Director Tony Pennington says: "We are pleased to welcome Nev and Drew to the team as their skills and experience will add further value to our service and support network. As we progress through 2022, we will add further to the sales and applications teams and we have already highlighted new positions in Scotland, and the north west and midlands regions of England, which we will be advertising for in the coming months."