Painting the town Claret! Burnley College and BFC team up in a day of celebration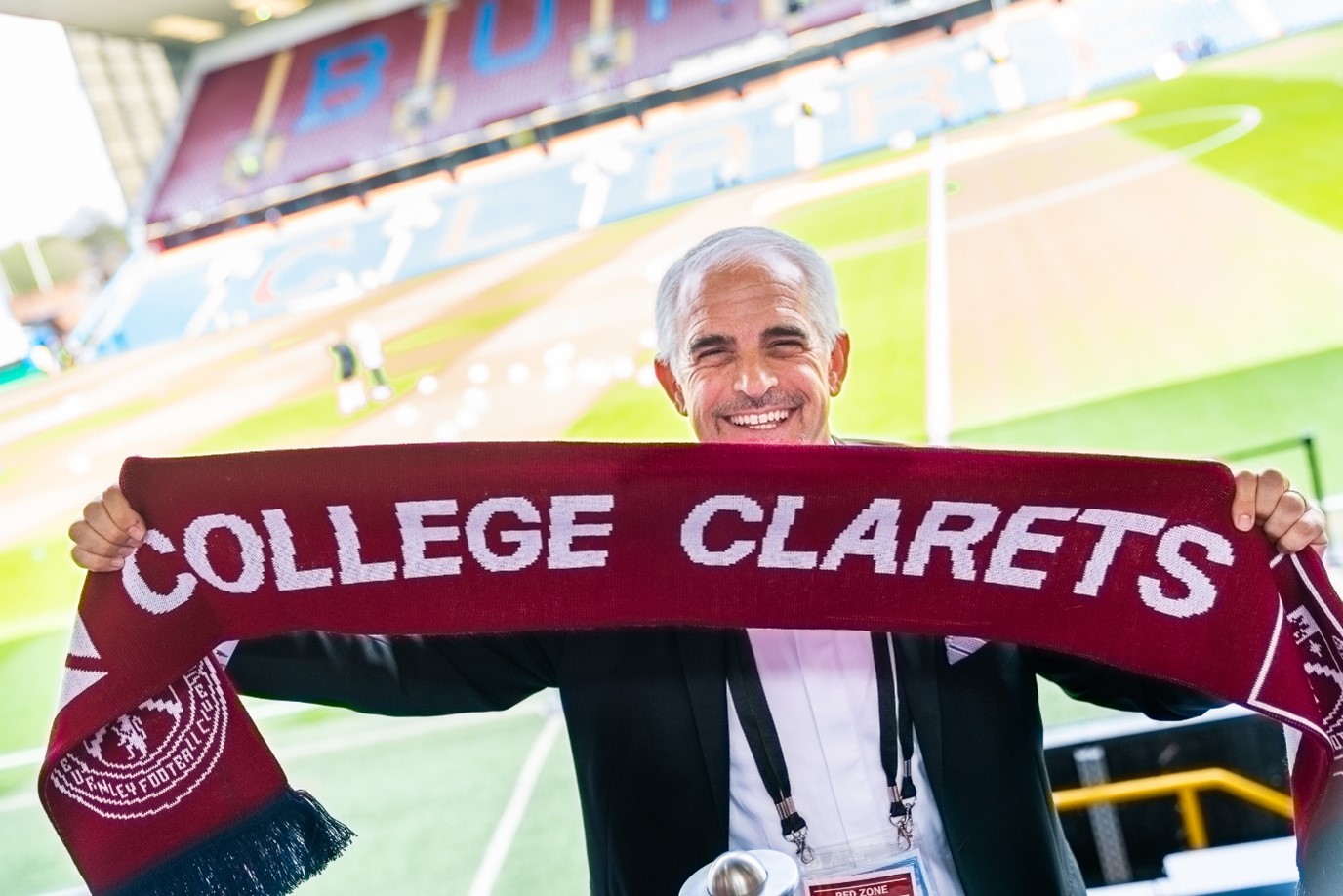 It was the highlight of last season – get ready to paint the town Claret as it happens again.
The two giants of Burnley, Burnley College and Burnley Football Club, are joining forces to create a day to remember for fans at Turf Moor – The 'College Clarets Takeover 2023'.
Last year the College Clarets Takeover saw the town awash with specially-designed scarfs and smiling faces as thousands flocked to watch Burnley beat Wolves 1-0.
This year even more are expected as the Clarets take on Huddersfield on Saturday 25 February.
The game is just one of the amazing activities taking place throughout the town and the stadium on the day:
Grab a giveaway! Exclusive "College Clarets" scarves, sweets and more!
Pit your gaming skills against the Burnley College's pro Esports player in a FIFA tournament
Shoot for prizes in the Penalty Competition in the Fanzone
Get crafty and create a BFC flag with an inspirational message
Get arty in the graffiti zone
Get your face painted
Get down and dance with live music in the Fanzone
Enjoy students' stunning artwork on the giant screens in and around the stadium during the game.
Plus loads more!
Visitors are invited to use Burnley College's car park for free matchday parking as they walk the road to Turf Moor alongside other Clarets fans.
Behind the scenes there's so much more going on too. It's a chance for a number of Students to shadow everything which goes on at Turf Moor on a matchday – from helping compile statistics and analytics to social media and photography.
Karen Buchanan, Principal of Burnley College, said it is going to be an amazing day, showcasing the power of collaboration between the College and football club:
"The iconic stage of Turf Moor is the perfect place and the passionate fans make such an amazing audience.
"Last year it was exceptional – this year it's going to be even better!
"Our partnership with Burnley Football Club is incredibly successful and has huge benefits for both the club and College – from Sport and Fitness to Esports.
"It's fantastic to grow this further, expanding the opportunity to work together and evolve our relationship with even more exciting developments to follow in the coming months, and years."
The free activities will take place in the Fanzone ahead of the Huddersfield game and there will be more fun along Harry Potts Way with free giveaways and information about everything Burnley College has to offer.
It's a day of soccer, of family fun and community spirit. Don't miss out! Grab a scarf, get ready to cheer for the Clarets and have an amazing day of real community celebration. Follow us on our socials to find out more: @burnleycollege