Quality Bearings Online supports Candlelighters charity by raising over £7,700 in 2023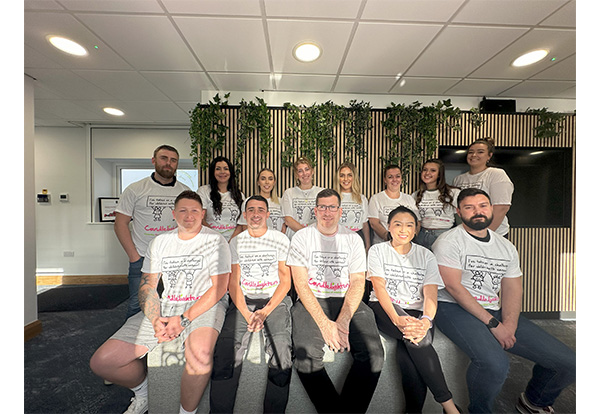 A Yorkshire-based distributor pledged to support Candlelighters, a Leeds based non-profit charity which supports families with children who are battling cancer. The team chose Candlelighters as their charity of the year 2023 with the goal of raising £5,000. They surpassed this target and have raised over £7,700 so far.
Founded in 1976, Candlelighters was formed by a group of parents and medical staff who recognised a need for supporting families with children facing childhood cancer. Since then, the organisation has grown and has created its own family support centre just around the corner from Leeds Children's Hospital.
Denny Maude, CEO at Quality Bearings Online Limited (QBOL), said "Candlelighters has been our charity of choice for many years, and I have personally seen, first hand, the work they do with families of children with cancer. They give support to those going through the toughest times in their lives, and I am incredibly grateful to the whole QBOL team for their dedication to fundraising and supporting Candlelighters with the fantastic work they do."
Quality Bearings Online is a multi-award-winning company which supplies precision bearings, engineering spares, and technologically advanced lubricants to customers all around the world. With a dedication to making a positive impact and supporting local charities, the team of 22 individuals based in Leeds, Gelderd Road, has taken part in a number of fundraising activities such as Tough Mudder's, Abseils, Bake Sales, and completing the 150-mile challenge.
June 2023 saw five QBOL employees abseil 148ft down the Moda building in Leeds City Centre. The individuals knew the strength and determination of children and families who are affected by this devastating disease and wanted to take on a challenge to push themselves out their comfort zones. They managed to raise a whopping £2,580, with QBOL matching all the donations the team raised.
In support of Childhood Cancer Awareness month in September 2023, employees at QBOL took part on the 150 Mile Challenge, set by Candlelighters. The challenge consisted of completing 150 miles within the month by walking, cycling, running, or swimming. To generate some healthy competition, they decided to split their departments into teams. Competitive spirits were high, with all teams fighting for the spot at the top of the leaderboard each week. In the end, the Directors team came out on top by achieving a huge 425.3 miles in total.
In conjunction with their fundraising activities, in 2022, Quality Bearings Online purchased a private suite at the First Direct Arena in Leeds. This incredible company perk allows employees to invite partners and suppliers, as well as family and friends, to join them for events at the arena. They used this as an opportunity to raise money for Candlelighters by covering all drinks and food tabs in exchange for donations from their guests. The team was also able to invite children and families from Leeds Children's Hospital to the private box for children's events such as Disney On Ice, Paw Patrol, and Blippi.
Iain Blackwood Hobbs, Partnerships Executive at Candlelighters, commented "We can't thank QBOL enough for all the support they have given to Candlelighters over the last couple of years. As well as getting involved with different fundraising activities, signing up to challenge events and supporting our campaigns. They've provided some amazing experiences at Leeds First Direct Arena for our families and created lovely memories. We don't receive any government funding and the current financial climate is more challenging than ever, so their fundraising has made a tremendous difference to the charity and the families we support. All of the money raised allows us to continue providing practical, emotional and financial support to families in Yorkshire affected by childhood cancer".
To find out more about the work Candlelighters does to help children with cancer and their families, please visit: https://www.candlelighters.org.uk/
Follow the QBOL team's journey and their future fundraising by following them on social media LinkedIn: Quality Bearings Online | Instagram: @qualitybearings | Facebook: qualitybearings | X: @QualityBearings