Real-life Dragon's Den as Burnley College Students Pitch to Entrepreneur Trio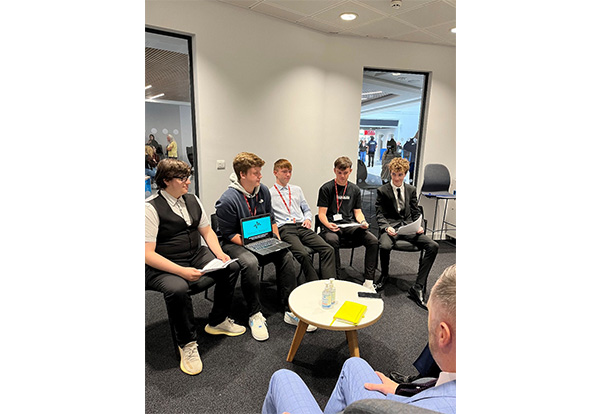 Burnley College Students have been wowing three international business entrepreneurs at a Dragon's Den style event which could see some of them receive real-life investment.
The trio, including the pioneer behind the Modern Milkman delivery service, Paul White, and an international serial tech entrepreneur, saw presentations from more than a dozen groups of Students.
Ideas included everything from artificial intelligence-based online medical diagnosis to an app for college Students to find jobs.
Paul says it's about ensuring as an innovator you're always listening:
"There are so many amazing entrepreneurs out there who just don't get the chance to develop their ideas.

"There are Students in this College – young adults – who have their finger much more on the pulse than I do at 35.

"But people can be worried about sharing their ideas, either through fear of what people will think – or fear it will be stolen.

"We want to give those people the reassurance of our experience, our skill and our knowledge so they can 'speak out' and hopefully we can work together."
Conor Walsh is a young innovator and entrepreneur who has recently teamed up with Paul to create their new app, PATCH, which hopes to revolutionize the window cleaning industry the way the Modern Milkman did the milk delivery industry.
Conor says Paul's expertise, but also the confidence he gave him were life changing:
"You need to believe in yourself. There are many reasons people don't pursue their ideas and dreams.

"I was working as an apprentice electrician. I'd won Apprentice of the Year, but I didn't feel my career was going anywhere."
Paul says he and Conor met through Instagram:
"We just started talking about this idea, which became PATCH – the brand new Window Cleaner app.

"It was too good to leave on the shelf. We set about raising the money together and now we've got an investor showcase coming up.

"It's about so much more than the money – it's about passing on everything it's taken me 15 years to learn to a younger generation so they can innovate for the future too."
One of Paul's long-term colleagues is the serial tech entrepreneur Ravi Garg, who flew in from India to Burnley especially for the Dragon's Den-like session:
"My expertise lies in converting ideas into an actual product – developing the technology and giving it shape.

"Simply getting money won't help you. You need to know the pathway to production.

"I've worked with Paul for almost six years now and have a company of around 100 people. Our expertise is in cloud software, data and AI.

"It's amazing to be here today and see the passion of these students sharing their ideas with us.

"That's my message: Never fear failure. Innovation is all about leaving the fear out."
One group of students chose to pitch their idea for an AI-based online diagnosis system to help relieve pressure on GPs.
Krystian Koziel, 17, a former pupil of Ss John Fisher and Thomas Moore High School, Colne, said the idea came quite quickly:
"We were just brainstorming about what apps could really make life more convenient. Suddenly the idea of a medical app came up and we though 'That's it!'

"I think the pitch went amazingly. We were asked to email over our proposal, so we're confident they liked what they saw."
Paul, Conor and Ravi are now making arrangements to come back and carry out round 2 of interviews and move their favourite projects one step closer to full investment.
Do think you're a future entrepreneur? Do you need the expert advice, skills and knowledge of industry figures to help you take your ideas to the next stage? Are you a #futureboss? At Burnley College Sixth Form Centre we pride ourselves on giving you opportunities just like these. Meet business leaders, get experience from industry-experts and train with cutting-edge equipment.
Learn more: www.burnley.ac.uk/home/sixth-form/