RO-RA relies on VERICUT simulation and optimisation software including VERICUT Force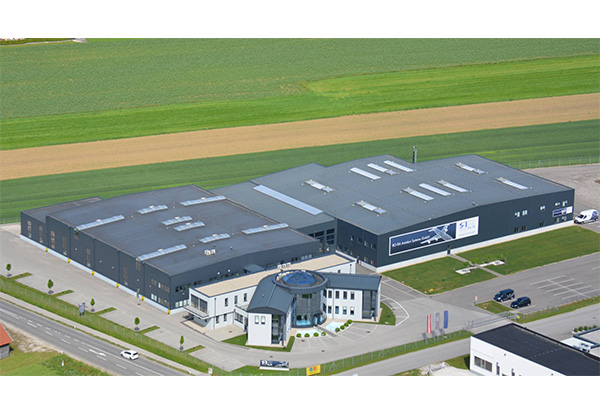 As an aerospace supplier, RO-RA Aviation Systems GmbH is very successful, especially in the production of complex, high-precision and difficult-to-machine components. With demands for high quality components, it is essential that  processes are safe and stable. For maximum process reliability and the best possible performance, RO-RA uses VERICUT CNC simulation, verification and optimisation software, including the VERICUT Force milling module. The result: no more machine crashes and time savings of up to 25 percent per component.
RO-RA Aviation Systems GmbH has been taking care of the technical equipment of aircraft of all kinds since 2006. The company, which is based in Schörfling am Attersee (Upper Austria) and currently has 190 employees, primarily develops and produces functional assemblies and precision parts for the aviation industry. The products include tension and push rods, high-precision components and mechanisms used in civil or business jets, helicopters and their engines.
Innovative and creative solutions
RO-RA have made a name for themselves worldwide, especially through innovative and creative solutions in both development and production. "Pre-development, calculation, design and qualification, as well as prototype production are essential components of our business model," emphasises Managing Director Helmut Wiesenberger. One success factor at RO-RA is the digitalisation of development and manufacturing processes. This includes the networking of all engineering and testing processes in the company. "By setting up digital twins in product and process development, we achieve significant improvements in time-to-market," Wiesenberger continues. In addition, flexible automation systems in production, create competitiveness in the heart of Europe. This is because it achieves the highest possible production capacity, even for complex engine parts made of superalloys. This is one of the reasons why the order situation at RO-RA is excellent again after the very difficult "Corona years". "Both our current capacity utilisation and the outlook for next year make me very confident," says Wiesenberger.
90 percent automation share
In the aviation industry, light and often heat-resistant materials are used for the most part, but they are only partially easy to work with. The machining know-how acquired over the years is one of RO-RA's USPs. "In addition to machining high-alloy steel, titanium and aluminium, we specialise in high-strength nickel-based alloys," says Patrick Fellinger, Head of Engineering at RORA, and he adds: "With our manufacturing technologies, we are able to produce highly complex geometries as well as gears very economically by means of skiving or hobbing." The machinery is likewise high-quality. With more than 30 state-of-the-art machine tools and around 90 percent automation, including seven robot stations, workpieces up to a maximum diameter of 300 mm or 850 x 700 x 500 mm (X/Y/Z) can be machined almost around the clock.
For companies in the fields of mechanical engineering, automotive and medical technology, the company also offers high-quality CNC contract manufacturing. "On the one hand, we handle our CNC turning and milling work at a fair price and, on the other hand, we deliver the quality standards of the aviation industry," says RO-RA trained toolmaking technician, whose department includes design, tool management and CAM programming. Apprentice training is also very important for RO-RA in order to prepare workers – especially machining technicians –  in the best possible way for the high quality standards that are required.
The components at RO-RA, somewhere around 3,000 different pieces, often have highly complex geometries. They need to be highly accurate and have the best possible surfaces – a combination that makes cost-effective manufacturing extremely challenging. Among other things, RO-RA manufactures complex connectors made of aluminium for aircraft fuel lines, in which the machining rate is around 95 percent. The component must also be non-conductive i.e. the surfaces must be perfectly processed. Previously RO-RA experienced machine crashes despite CAM simulation, which of course resulted in downtimes and service calls. In order to avoid this and ultimately increase process reliability, RO-RA introduced CGTech's VERICUT simulation and optimisation software in 2018 after a selection process. "In order to produce such sophisticated milled components efficiently and economically, we were looking for a software solution that simulates our NC programs in advance and checks them for any problems, such as collisions," says the department head.
The fact is, CAM simulation 'only' simulates the toolpaths and not the actual NC code. "With VERICUT, we get a virtual machine and a machining digital twin. This means every travel path that we program is checked for 100 percent process reliability," says Fellinger, explaining the decision. "VERICUT can simulate any CNC machine, regardless of manufacturer. And, of course, we also supply the necessary interfaces that VERICUT integrates into the customer's specific software manufacturing environment. Our simulation software is completely independent of the controller, CAM system and CNC machine used," says Dirk Weiß, responsible for sales in Germany and Austria at CGTech.
According to Fellinger, "the software is also very easy to use – with one mouse click, the CAM data is loaded into VERICUT" and Weiß adds, "the simulation process only takes a few minutes with only a slight difference between the virtual processing time and the real machining time." At RO-RA, every milling program is checked by VERICUT for any errors before it is sent to the machine. "After all, only a production simulation of the NC data, i.e. the machine code, offers us sufficient security for all machining processes. The topic of crashes is definitely a thing of the past for us," says Fellinger, pleased with the process reliability gained.
Proving-out without Proving-out
Thanks to the trust in VERICUT that has grown over the years, RO-RA have also been able to improve the prove-out processes of new components. "In the past, the feeds were significantly reduced when proving out. This is an understandable approach by the machine operators – but this resulted in the first component mostly being rejected, for example due to insufficient surfaces," says the department head when explaining a common procedure that must first be brought out of the minds of the employees. "The only way to do that is through trust in the software," confirms Weiß, who is also familiar with this from many other projects. For the best possible production preparation, RO-RA also uses the tool management software WinTool and the real tool data from the tool presetting is read directly on the machine via a chip.
Up to 20 percent time savings with Force
For a year now RO-RA has been using the Force module, in addition to VERICUT, to further optimise its machining processes. "We try to make the most of the production of our components in terms of program and tool technology – especially in the case of recurring parts. With Force, we now have another very simple lever with which we can further improve our competitiveness," says a happy Fellinger.
VERICUT Force is a physics-based software module for optimising NC programs. It is used to analyse the cutting conditions during the entire NC program operation. In particular, the maximum reliable feed rate for a given cutting condition is determined based on the load on the cutting edge, spindle power and the maximum chip thickness. "So far, we have optimised 35 different components with Force and, depending on the material and complexity, have been able to reduce machining time by up to 25 percent," says Fellinger, summarising the remarkable results.
With focus on difficult-to-machine materials, CGTech demonstrated the advantages of Force even by analysing an engine component for RO-RA and was able to reduce the machining time by 18 percent right away (from 12 to less than 10 hours). RO-RA only had to provide CGTech with the VERICUT project as well as additional information, such as the material (in this case Inconel 718) as well as certain limits, such as the maximum mean span thickness. "Optimisation, including simulation, takes around two hours for a component like this. Thanks to a knowledge database with corresponding empirical values in the background, VERICUT Force delivers an improved NC program at the push of a button," says Weiß.
In addition to the considerable time savings, RO-RA also benefits from an improved cutting tool life (up to 40 percent for Inconel or titanium). "Force is not about changing the milling strategies of existing programs or the toolpaths. Rather, everything is regulated by the feed to bring in additional advances. The geometries are not changed," Dirk Weiß goes into detail and adds: "Force enables astonishing improvements, especially in the machining of materials that are difficult to machine and or complex multi-axis operations." But according to Patrick Fellinger, RO-RA was also able to achieve very remarkable results with aluminium components: "All in all, the investments in VERICUT and VERICUT Force for RO-RA have paid for themselves within a very short time – we can no longer imagine working without VERICUT!"