Royal Recognition For Leeds Based International Distribution Company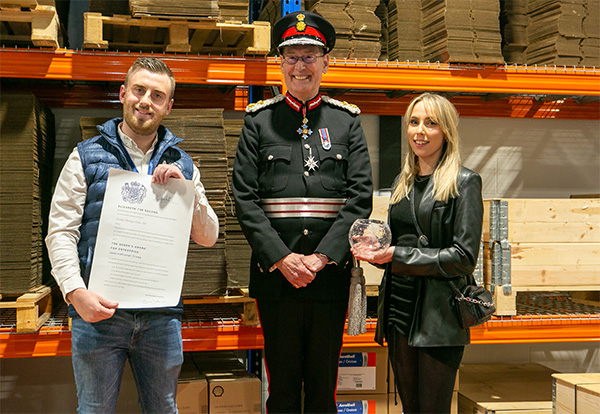 Global bearing distributor Quality Bearings Online, based in Leeds, has officially received the Queen's Award For Enterprise For International Trade 2022.
On January 12th 2023, The Lord Lieutenant of West Yorkshire, Ed Anderson, presented the Queen's Award For Enterprise to Quality Bearings Online (QBOL). Two of QBOL's employees, Liam Doyle (25) and Meghan Say (26), accepted the official glassware trophy and signed scroll on behalf of the QBOL team. The Lord Lieutenant also opened the brand-new purpose-built warehouse and office space based at the new industrial estate on Gelderd Road in Leeds. The night commemorated the successes of this Yorkshire business, and the team was celebrated by friends, family, suppliers, and valued partners who travelled to be there.
Now in its 57th year, the Queen's Award for Enterprise is the most prestigious business accolade in the country, with only a select few businesses chosen each year. QBOL was one of just 23 Yorkshire firms honoured with the Queen's Award for Enterprise in April 2022. The certificate, the Grant of Appointment Scroll, is the only document to be signed by both the Monarch and Prime Minister, this issue having been signed by her late Majesty Queen Elizabeth II.
Denny Maude, CEO at Quality Bearings Online, said, "Our journey started just over 10 years ago with a vision of becoming number one at what we do. Winning the Queen's Award for Enterprise is very special to the team, and we're delighted our hard work has been recognised."
"My business partner, Simon Riley, and I couldn't have got to where we are today without the fantastic team and talent we have here at QBOL. We are extremely proud of how far they've taken the company, and that's why we decided to send two of our longest-serving employees up to collect the award on behalf of QBOL."
To complete the evening, The Lord Lieutenant of West Yorkshire cut the ribbon to the new premises, and the building was officially opened. The guests were given tours of the building and provided complimentary food and drinks. They each received a scratch card with a chance to win prizes such as a hospitality box for Peter Kay Live at Leeds First Direct Arena and a £200 donation to the winner's charity of choice. Guests were also invited to donate to Candlelighters, a Yorkshire based charity supporting families with children with cancer for which QBOL has raised money several times over the years.
Denny continues, "After months of planning, we were extremely grateful to welcome our special guests and give them an insight into what we do here at QBOL and the culture we have created, as it's something we are extremely proud of. I'd like to thank our partners who worked with us to make QBOL the success it has become."
Follow Quality Bearings Online's journey on: LinkedIn: Quality Bearings Online | Twitter: @QualityBearings | Facebook: @qualitybearings