RRA23 – MADE IN LANCASHIRE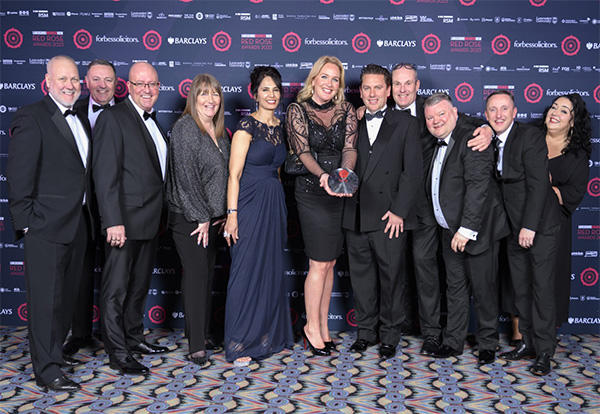 Thornton-based Addison Precision won big at the Lancashire Business View Red Rose awards, scooping the prestigious Made in Lancashire title. This event sees Lancashire business, commerce and industry come together and are celebrated. It provides the best possible platforms to promote success, and to encourage trading within the county.
Since launching the awards in 2011 the Red Rose Awards have steadily grown and become the centrepiece attraction for the business community in the county with the sell-out ceremony taking place at the magnificent Winter Gardens Blackpool. The Awards play out in front of an audience of more than 1,000 business professionals and this year saw the awards celebrate its 13th year.
Addison Precision, whose headquarters are located on the Hillhouse Business Park Enterprise Zone, was recognised for its contribution across a range of sectors, including aerospace, defence and infrastructure to medical implants.
Chief Executive Marcus Addison said: "It is with great pleasure and tremendous pride for Addison Precision to be recognised as the winner of the Made in Lancashire Award at the Red Rose finals ceremony this year. It is brilliant for an engineering manufacturer such as ourselves to achieve this positive recognition.
"More than 100 companies reached the finals out of over 2,000 entrants to the competition and for Addison to be crowned as the overall winner of the 'Made in Lancashire' Award is just absolutely fantastic.
"We do some tremendous things here at Addison for a diverse blue chip client base, right across the UK, and we are really pleased to have been recognised by the Red Rose judges.
"Our regular partners are many but include the manufacturing of aero-engine components for Rolls Royce, being a design and manufacturing partner for BAe Systems along with supporting the country's gas network for National Grid. We also manufacture human implantable devices for the medical industry.
"The judges commented that our passion and enthusiastic approach from our talented engineers really shone through, as did our commitment to excellence in customer service and sustainability and the credit truly goes across the whole workforce. They really deserve this."
Mark Verdon, Managing Director of Addison Precision said "This award recognises the efforts and commitments of all the exceptionally talented engineers and people within our company.
"The award helps not only raise our business profile and that of British engineering in the north but of the Hillhouse Business Park Enterprise Zone in Thornton-Cleveleys, where we are based. It is especially important right now as we continue to recruit and attract both new engineers and apprentices to the company.
.
"We need a steady stream of talented engineers to satisfy our expanding company, so it's important in the first instance that these people know who we are, what we can offer and where we are based."
The Addison group are on an upward trajectory with purposeful strategies in place to achieve growth whilst also delivering on their ambitious commitment to their net-zero targets.
Marcus added, "Sustainability is very important to us here at Addison. Not only are we focused on reducing our carbon footprint on our journey towards Net Zero with initiatives including reducing energy waste, we are also increasing our own self supply of electricity with solar on every available roof-space and installing solar canopies and charging ports for our expanding fleet of electric vehicles. This helps us to make and deliver our products in the most sustainable way and to assist our Clients in their own sustainability goals."
Blackpool North and Cleveleys MP Paul Maynard, whose constituency includes the Hillhouse Business Park Enterprise Zone, congratulated Marcus and his team.
He said: "Well done to everyone across the Addison group. I know how much this win will mean to Marcus and all the team.
"We have some fantastic businesses, particularly in the engineering and manufacturing sector, based at Hillhouse.
"They have been helped to grow by the Government's Enterprise Zone scheme, of which Hillhouse is a part.
"It is fantastic to see companies like Addison Precision investing in skills and delivering opportunities for local people.
"At the same time they are showing that business growth and a drive towards Net-Zero can be delivered hand-in-hand."
Businesses from the length and breadth of the county vied for titles across a range of categories, with only the best of the best, as selected by a panel of expert judges, progressing through to the shortlist and a rigorous interview stage before being rewarded for their excellence.
Event founder Richard Slater, also the publisher of Lancashire Business View magazine, said: "The Red Rose Awards, now in its thirteenth year, are very hotly contested, so Addison should be very proud that they have seen off all the competition to win this award!
As award winners, Addison Precision collected a trophy specially crafted by trophy partner Pendle Engineering.
Headline sponsors for the event were Forbes Solicitors and Barclays. The official judging partner of the awards is Lancaster University and validation partner is RSM.
A full review and picture gallery will featured in the May/June edition of Lancashire Business View and online at www.redroseawards.co.uk
The awards are also sponsored Alcidion, AMRC North West, Azets, Bigtank, Burnley Football Club, Business Health Matters, Campbell & Rowley, Community & Business Partners, Community Foundation for Lancashire, Chorley Council, Cube Thinking, Daniel Thwaites, ELE Advanced Technologies, Equestrian Surfaces, Four Recruitment, Fox Group, Harrison Drury Solicitors, Marketing Lancashire, Mattioli Woods, Mytton Fold, Napthens, Nybble.co.uk, Partners&, PDS Engineering, Peter Scott Printers, Pierce, Pink Link, PM+M, Porsche Centre Bolton, Porsche Centre Preston, PSD Group, Pursuit Aerospace, Quest Electrical, RBC Brewin Dolphin, Sales Geek, Serconnect, Shout Connect, The Fun Experts, The Small Business Academy, United Utilities, University of Central Lancashire, U Start Project, Winter Gardens Blackpool.
The charity partner for Red Rose Awards 2023 is Community Foundation for Lancashire and funds were raised at the awards event to support their work.
For further information about the Addison group please visit our website addisongroup.uk or email us at enquiries@addisonproject.co.uk