Secretary of State for International Trade, Anne-Marie Trevelyan Visits Oxley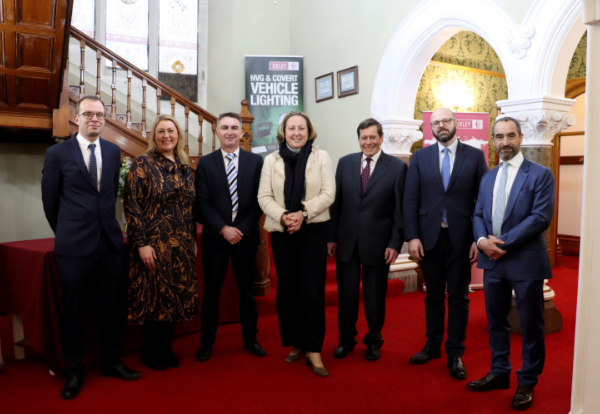 Secretary of State for International Trade, Anne-Marie Trevelyan has visited Oxley as part of the Board of Trade visit to Furness.
The Secretary of State was accompanied by Simon Fell, MP for Barrow and Furness and a wider Board of Trade team.  The group toured the Ulverston factory to see some of the world leading aerospace and defence technology being designed and manufactured inhouse. Oxley is a global pioneer in high specification LED lighting, night vision solutions and electronic components, customers include Airbus, Boeing, Saab, BAE Systems and General Dynamics.
Oxley is a Northern Powerhouse Export Champion, a role they have proudly held since 2016, the team works with the Department of International Trade to encourage other businesses to grow through exporting.  Oxley's export journey started in the 1970s and the Group now exports 80% of products to 34 countries across all 5 continents.  Oxley Group has been four times winner of the Prestigious Exporter of the Year Award.
During the visit the team showcased the new technology developed for the KF-21 fighter jet in South Korea. Oxley has worked with KAI on the development programme over four years and has supplied a fully qualified external LED lighting system for the prototype aircraft, Oxley is now also part of the ground-breaking UK Tempest project.
The Priory Park site has had over £1.5M investment programme over recent years to upgrade facilities and advance technical capability. The Secretary of State met the skilled Oxley team based onsite including apprentices, design engineers and technicians. The Board of Trade visit to Cumbria focused on future opportunities for growth and Oxley showcased the work they are doing with young people to develop future skills and build a pipeline to meet this growth opportunity.
The Secretary of State commented, 'Our Export Champions play a vital role in helping us deliver our trade strategy and achieve our Race to a Trillion pounds worth of exports by the end of this decade.
'Oxley Group is an excellent example of the hard work and successful collaboration between DIT and these Export Champions. It was a pleasure to visit their site and find out how this world-leading company is boosting growth and creating jobs in the region, which in turn is helping us to level up the entire UK.'
Oxley Group CEO, Darren Cavan added, 'Oxley was delighted to host the visit from the Secretary of State. Innovation and export are part of the Oxley DNA and increased international trade is critical to our future growth.  The Secretary of State's visit gave us the opportunity to demonstrate our global leading technology and capabilities that makes Oxley the choice of defence and aerospace companies across the globe.'
Ends
Notes to Editors – About Oxley Group
Oxley is a world leading designer and manufacturer of high specification LED lighting, night vision solutions and electronic components, products are in use worldwide on aircraft, vehicle and naval platforms.  The Oxley lighting range includes commercial off the shelf products for upgrade and new build programmes and the team specialises in the design of full lighting solutions.
The Oxley range also includes EMC filters, LED indicator lamps and interconnect products; all designed for challenging military applications. The Group offers a full turn-key solution from its site in Cumbria and products are exported worldwide.
For Further Enquiries Contact:
Jayne Moorby
Marketing Manager
Mob: +44 (0)7921 066296
DD: +44 (0)1229 483215