STEM ROADSHOW DEMONSTRATES THE WONDERS OF SPACE TO SCHOOL PUPILS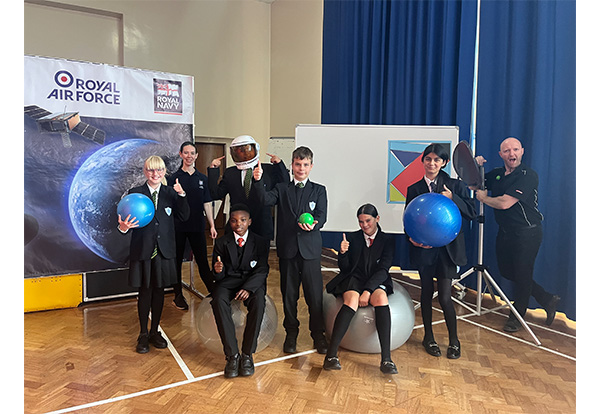 The UK's longest-running science, technology, engineering and mathematics (STEM) roadshow for schools has visited Christ The King High School as part of its 18th annual season with space as its central theme for 2023.
Delivered jointly by BAE Systems, the Royal Navy and the Royal Air Force, the schools roadshow, which began in 2005, visits more than 420 schools across the UK each year. Designed to inspire excitement in STEM subjects, it provides a highly interactive experience for students aged 10 to 13 years old in primary and secondary schools nationwide.
This year's show takes pupils on a journey from the depths of the ocean to the far reaches of outer space. Audiences participate in understanding our place in the solar system, how engineering will allow us to explore more of these unchartered areas and the science and technology needed to survive in these extreme environments.
The theatre show culminates in a five metre diameter inflatable model of the Sun next to a marble, as a scale representation of the Earth, to show just how huge the solar system is. These demonstrations bring science concepts to life for the students.
The 2023 schools roadshow entertained pupils at Christ The King High School and is on its way to educating and entertaining more than 100,000 pupils across the UK this year. Last October, the team reached the remarkable milestone of engaging with their one millionth pupil.
Mrs Banks, Head of Creative Arts at Christ the King Catholic High School, said:
"We were excited to welcome the BAE Systems roadshow this week. Students learnt how the Queen Elizabeth Naval fighting ship was built and were shown some of the most modern submarines in the world. They learnt lots about the solar system and were amazed by the giant blow up sun in the roadshow finale!
"Hopefully Christ the King will have some engineers of the future in their midst. It was a pleasure to have the roadshow team visit and inspire our students in the world of STEM."
Julian Cracknell, Chief Technology & Information Officer at BAE Systems, added:
"There's never been a more exciting time for young people to be studying STEM subjects. Technology is developing at an unprecedented rate and the next generation of engineers, mathematicians and scientists will be at the forefront of shaping our world for the better. I hope this year's STEM roadshow inspires our young people to dream big with ambitions such as exploring the solar system, creating pioneering clean energy solutions or developing life-changing medical cures."
BAE Systems, the Royal Air Force and the Royal Navy employ more than 50,000 engineers across the UK and are committed to engaging with young people on STEM activities to encourage and support a highly skilled workforce of the future.
For more information on career opportunities with BAE Systems please visit baesystems.com/ukcareers