The University of Central Lancashire Engineering Innovation Centre (EIC)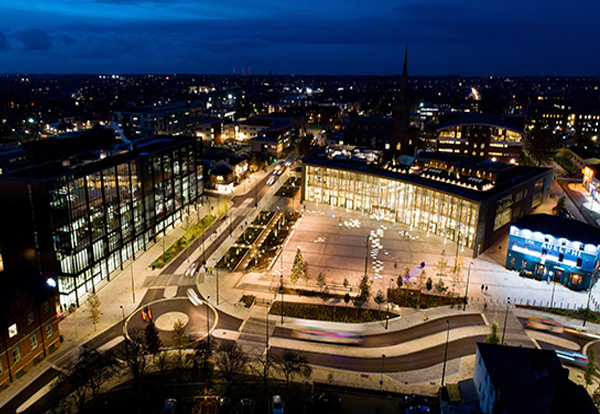 The Engineering Innovation Centre (EIC) is an advanced, state-of-the-art £35 million facility located in Preston within one of the most intense engineering and manufacturing areas in the UK. The EIC helps strengthen Lancashire's position as a national centre of excellence for aerospace, advanced engineering and manufacturing and contributes towards maintaining the UK's reputation as a global leader in these areas. Identified as a signature project within Lancashire's Strategic Economic Plan, the EIC secured £10.5 million worth of funding via the Lancashire Enterprise Partnerships' Growth Deal and have also received £5.8 million from the European Regional Development Fund (ERDF) along with £5 million from HEFCE's STEM Capital Fund.
The Centre hosts a range of facilities including high-quality business meeting spaces, innovation zones and industry project rooms alongside our specialist areas such as the Additive Manufacturing, Advanced Composites, Motorsports, and Aerospace Workshops.
The EIC offers a wide-ranging portfolio of engagement opportunities for your business:
Tailored support programmes in; product design and innovation, digital manufacturing, low carbon technologies, Medtech development, and raising equity investment.
Equipment resources: RedBird flight simulator, designated fire test facility, carbon fibre composite machine, additive manufacture, industry hot desk and designated meeting spaces.
Business-to-Business meeting and workshop space – high-quality meeting rooms in a vibrant environment.
Peer-to-peer learning – spaces for networking.
Collaborative partnerships – student projects, PhDs, Knowledge Transfer Partnerships and joint research bids.
Real-World Innovation
Work at the EIC will lead to new methods, ideas and technological breakthroughs which have the potential to transform lives and drive the future prosperity of our region. Researchers, students and companies across Lancashire will have direct access to cutting-edge equipment, technologies and research.
Lancashire Innovation Drone Zone (LIDZ)
The Lancashire Innovation Drone Zone (LIDZ) support Lancashire SMEs to unlock the potential of utilising drone products in their business. They can help you understand how drones and drone-related technology can help streamline processes, save costs and increase safety. Drone services can also support the design, prototype and testing of new products to improve profitability. To find out more contact the team on lidz@uclan.ac.uk.
Contact us: 01772 895500
business@uclan.ac.uk uclan.ac.uk/business
@UCLanBusiness