Themis at Burnley College named UK Apprenticeship Award winner at prestigious ceremony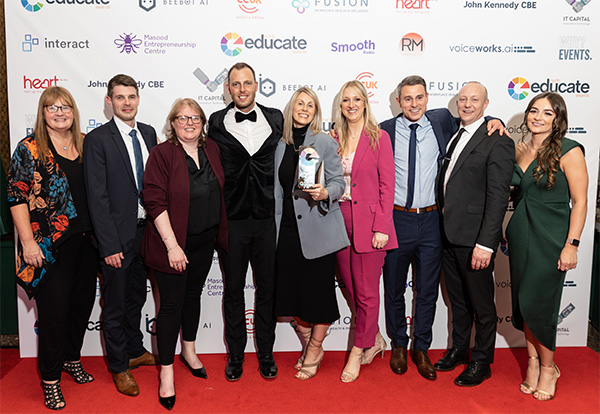 Themis – the respected Apprenticeship training arm of Burnley College – has been recognised by top judges from the world of industry and academia for its exceptional work in supporting business and creating a highly-skilled, motivated workforce of tomorrow through its unrivalled apprenticeship training programmes.
Facing competition from other Colleges and training providers, Themis's commitment to playing a key role in the region's economic recovery and its mission to Build Futures and Change Lives for Apprentices, were recognised at the Educate North Awards 2023, staged at Manchester's Midland Hotel.
And there was double cause for celebration on the night as Burnley College also received a Highly Commended Award in the Sustainable Green Initiative category for the pioneering work being carried out with employers and learners alike in its new Low Carbon Hub. The
Proud staff and learners at Burnley College are celebrating after Themis (the College's successful apprenticeship training arm) was scooped the highly-competitive UK Apprenticeship Award and Highly Commended in the Sustainable Green Initiative Award for their pioneering Low Carbon Hub.
The Educate North Awards "celebrate, recognise and share best practice and excellence in the education sector…" with judges singling out Themis's winning entry with the following words:
"Themis at Burnley College are flourishing due to their agile approach, adapting quickly in a wide range of areas from wellbeing to digitalisation, their focus is the region's future workforce."
Head of Apprenticeships at Themis at Burnley College Hannah Cutler says:
"For Themis to be recognised with this prestigious award is great news for Burnley College and for the successful employers with whom we work so closely across the North of England. It truly shows that we mean business and are determined to play an active role in the region's future economic success by providing the highly-skilled, ambitious and innovative employees that our employers need – today and in the years to come.
"When our passion is recognised at such a high level it's validation that we're doing the right thing and it inspires us to work harder, work smarter and build bigger and better in the future."
Themis's continuing success has been built on collaboration with employers to ensure their voice is heard – through regular engagement forums – when developing and planning training programmes to closely match the needs of. Burnley College also invests heavily in ensuring that learners have access to the very latest equipment and technologies – in industry-standard settings – which enable them to bring up-to-the-minute skills and knowledge back into the workplace under the guidance of expert Tutors and trainers.
It is the same commitment to work alongside industry that has seen success for Burnley College's award-winning Low Carbon Hub. Employers from across the region have been flocking to the Hub to upskill their workforces in the latest green technologies to keep their businesses ahead of the curve, as well as discovering how they can save money – as well as the planet – by harnessing the power of industry-leading data and energy use analysis tools.
Initially funded through the Government's Strategic Development Fund, the Low Carbon Hub showcases the very latest technologies for solar and wind power, as well as training suites for electricians and plumbers in electric vehicle charging and heating solutions.
Neil Burrows, Director of Skills and Innovation at Burnley College, says aiming for a low-carbon future is essential:
"The green agenda is here to stay, rightly so, and we all have a duty to play our part in preserving our planet's natural resources for future generation.
"As a College, we're committed to creating a sustainable future and are constantly making progress towards that goal by increasing the number of solar panels on our rooftops; harvesting rainwater; recycling; rewilding our campus and constructing eco-friendly buildings as we grow.
"It's something our learners are passionate about, too, and we're seeing more and more employers coming to us to help them reach their sustainability targets – working towards net zero – or legislative requirements.
"The Low Carbon Hub is designed specifically to make that transition towards net zero as efficient and effective as possible. We believe passionately in sharing best practice and ensuring that every business across the North West can benefit from sustainable technologies.
"We're honoured to have the work of Burnley College and our partners recognised by such a prestigious body."
As an employer, are you ready to tap into the expertise, innovation and passion of Themis to help boost your business – whatever the sector – through an Apprentice? Our Themis advisors will be with you every step of the way offering support – from highlighting the financial benefits to supporting the recruitment process. Contact the Themis team on 01282 733005 or email themis@burnley.ac.uk.
To discover more about the Low Carbon Hub and to discover how Burnley College can support your business to get ahead of the competition in this developing domestic and commercial market – and navigate the latest legislation – email nwbt@burnley.ac.uk or call 01282 733273.