thyssenkrupp Aerospace and Saab sign renewal of their partnership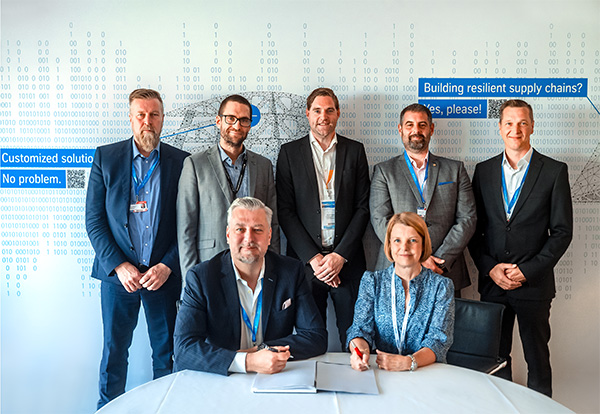 thyssenkrupp Aerospace and Saab today announced that they will prolong their partnership. Under the new agreement, the company will become the materials supplier for Saab's subcontractors all over the world. The aerospace and supply chain experts will take care of the warehousing and quality inspection activities for the Swedish aircraft manufacturer.
thyssenkrupp Aerospace, a thyssenkrupp Materials Services company, has been supporting Saab with the supply of raw materials since 2008. As part of the new contract, thyssenkrupp Aerospace will additionally take care of all warehousing and quality inspection activities for Saab, as well as their global subcontractors. With their global presence and relationships with leading materials producers, thyssenkrupp Aerospace will be the quality gate for the partners of Saab all over the world.
Petri Laaksonen, Managing Director of thyssenkrupp Aerospace Finland comments: "The renewed partnership with Saab is yet another example of our strategy "Materials as a Service". Since the beginning of our relationship, we have continuously increased our service scope and are proud that we have been able to gain the trust of Saab. I am delighted that we could again prove that our supply chain expertise adds great value for our customers."
With precise planning, and near net shape production of parts with waterjet cutting, thyssenkrupp Aerospace improves sustainability and costs for their customer. Smart transportation routes and streamlined logistics lead to further savings in CO2, as in line with the sustainability strategy of both thyssenkrupp Materials Services and Saab.
thyssenkrupp Aerospace is a leading global company that delivers supply chain solutions for the aerospace industry. The company's network spans more than 40 sites in over 20 countries and its over 3,500 customers include the world's biggest aerospace manufacturers and their suppliers. thyssenkrupp Aerospace offers supply chain management as well as a wide range of supply chain and manufacturing services. These include procurement of raw materials, warehousing, precision processing, third-party logistics, and just-in-time delivery.